Rally for Rehab September 10, 2023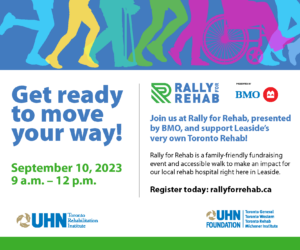 Rally for Rehab, presented by BMO, is a family-friendly fundraising event to support University Health Network's Toronto Rehab and help patients reclaim their independence after life-altering health events.
On September 10, join us for an accessible walk and get ready to move your way to support research, education and patient care at Toronto Rehab.
Register or support today: www.rallyforrehab.ca
34th Annual Cabbagetown Art & Craft Show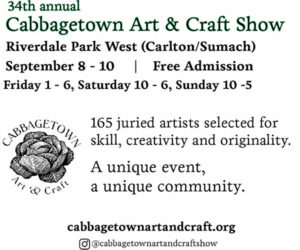 September 8 – 10, 2023, Riverdale Park West at Carlton and Sumach
Friday 1 – 6pm, Saturday 10 am – 6 pm, Sunday 10 am – 5pm. FREE ADMISSION
Over the weekend after Labour Day, the much-loved Cabbagetown Art & Craft Show will return to Riverdale Park West. As artists and art lovers gather in the unique heritage neighbourhood, it promises to be the perfect way to mark the winding down of summer. The free event takes place against a backdrop of beautiful Victorian homes over the same weekend as the Cabbagetown Festival on Parliament Street and the Fall Festival at Riverdale Farm.
www.cabbagetownartandcraft.org
Instagram: @cabbagetownartandcraftshow
Facebook: Cabbagetown Art & Craft Show
Leaside Branch Public Library
165 McRae Drive, 416-396-3835
Baby Time and Stay-and-Play
Tuesdays, Sept. 19 and 26 – 10:30-11:30 a.m. Bouncing and tickling rhymes, songs and stories for babies up to 18 months with their parents/caregivers. Thirty minutes of story time followed by Stay-and-Play, a fun opportunity for children and parents to socialize and play. Drop-in.
Toddler Time and Stay-and-Play
Fridays, Sept. 15, 22 and 29 – 10:30-11:30 a.m.
Stories, songs and rhymes for children ages 19 months to 3 years with their parents or caregivers. Story time followed by Stay-and-Play, a fun opportunity to socialize and play. This is a drop-in program.
After School Club: Lego Challenge
Mondays, Sept. 11, 18 and 25 – 3:30-4:30 p.m.
Join us for afternoons of fun with games, projects and activities. Get creative, build new skills, and explore new themes. Recommended age: 6 to 12 years. Drop-in. Space is limited. There will be no program on Mon., Sept. 4.
Adult Board Games Night
Tuesdays, Sept. 5, 12, 19 and 26 – 6:00-7:30 p.m.
Come and join us for a night of fun at the Leaside Branch. Bring your friends or come make some new ones as you battle it out over board games. No registration required.
Needlework
(Knitting & Crocheting at the Library)
Thursdays, 10:00-11:30 a.m.
Bring your own knitting or crocheting project, or start something new while learning about different library programs, services and resources. All are welcome.
Applications open for Teen Council
Join the library community and engage with fellow teens to come up with creative programming and display ideas for our branch. Attendance counts towards volunteer hours. Begins in September. Attendance is bi-monthly, the second and fourth Wednesday of every month.
Sushi Making Workshop with Chef Sang Kim
Wed., Sept. 27 – 4:00-5:00 p.m.
Celebrity chef Sang Kim teaches the basics of sushi-making. Participants make sushi rolls using ingredients prepared by the chef and eat their own creations. A brief history of sushi, its origins and eating etiquette will also be shared. For teens 13- to 19-years-old. Registration is required. Register in person or by phone at 416-396-3835.
Repair Cafe
Sat., Sept. 2 – 12:00-3:00 p.m.
Bring in your broken household items and Repair Café will fix them for free and teach you how to repair them yourself. Drop in anytime from 12:00-3:00 p.m..
Leaside Programming
To see all Leaside branch programming and activities: www.tpl.ca/leaside.
CFUW Leaside-East York
Thurs., Sept. 21 – 7:00 p.m.
Life in the Beehive
Speakers: Aria Stoneham and Patrick Newman, Toronto Beekeepers Collective
Northlea United Church, 125 Brentcliffe Rd.
Toronto-Leaside Rotary Club 27th Annual Community Corn Roast
Sun., Sept. 17 – 12:00-5 p.m.
Fresh corn, hot dogs, inflatables, games for all. Trace Manes Park (Millwood/McRae). See article on Page 35 for more info.
St. Augustine of Canterbury Anglican Church
Groove Room Coffee House
Fri., Sept.8, 7:00 – 8:30 p.m. Live music by local artists along with coffee and dessert. Cost: $5 towards Flemingdon Food Bank.
10th Annual Community BBQ
Sun., Sept. 10 – noon. Hamburgers, hot dogs, a bouncy castle. All welcome. No charge.
Gardens of Distinction
Look for 12 white signs in these front gardens, awarded by the Leaside Garden Society:
24 Bennington Heights Cres., 20 Mallory Cres., 1 Rutherglen Rd., 156 Leacrest Rd., 207A Randolph Rd., 279/281 Bessborough Dr., 10 Glenbrae Ave., 219 Donlea Dr., 292 Airdrie Rd., 24 Sharron Dr., and 8 Vanderhoof Ave. Congratulations to all of the gardeners involved!
Leaside Garden Society Speaker Series
Tues., Sept. 14, 7:00 p.m. via Zoom
Special guest is Jim Lounsbery: Dwarf & Unusual Evergreens in the Landscape
Leaside Garden Society always welcomes guests and new members to join the Society for our meetings.
Visit: http://www.leasidegardensociety.org or email:
Northlea United Church
125 Brentcliffe Rd.
Live Jazz is back with Alex Pangman Sun., Sept. 10 – 5:00 p.m.
Clothing Drive drop off
Sat., Sept. 23 – 9:00 a.m.-1:00 p.m. – on the front lawn. Clothes to go to families in Flemingdon Park.
Lunch & Learn: Aging in Place
Tues., Sept. 26 – 11:30 a.m. – registration required.
Gauging interest!
It doesn't matter if you can sing or think you can't sing. If you love singing and want to join an all-ages just-for-fun community choir, contact the church office to leave your name and contact info. Once we have enough interest, singing will start in the fall.
Nothing But Treble Youth Choir
Begins Wed., Oct. 4 – 4:00- 6:00 p.m. To register your child, contact for costs and other registration info.
St. Cuthbert's, Leaside
1399 Bayview Ave., 416-485-0329
Gard'n Angels
Volunteers welcome to work in our community vegetable garden providing fresh organic produce to Fleming don Food Bank. Main "work party" day: Wednesdays, 10 a.m.- noon.
Tai Chi returns
Starting Sept. 19 – 1:30-2:30 p.m. Donation $4.
"And So It Goes…A Cabaret"
Sun., Oct. 1 – 2 p.m.
Baritone Brett Polegato and pianist Robert Kortgaard will perform, followed by a light reception. Tickets $30 plus Eventbrite processing fee. See article on page 18.