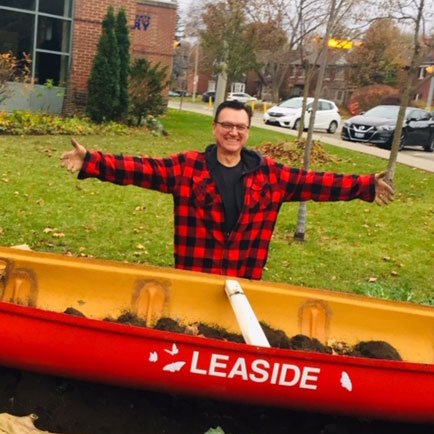 If you're a regular reader of Leaside Life, you already know a thing or two about Rick Hutchings. His gardening adventures have graced these pages for the past decade. And I've shone a light on his work with the Leaside Garden Society more than a few times.
For those who don't know, he's been a member of the LGS for eight years (serving on the board), director of the junior gardeners' program and creator of the gardens in and around the library…including the ever-popular butterfly canoe.
But there's so much more to know about this busy green lover.
Not only does Rick have his own landscape company, but he also creates landscapes for Sheridan Nurseries' clients through their company. And that's not all: he's been working with Parks and Recreation East York for eight years, six of them as lead gardener. Believe me when I say I'm only scratching the surface!
A long-time Leasider, Rick and his wife purchased their Bayview/Broadway home in 1996 and have always been deeply connected to the neighbourhood. They raised two girls in the Leaside school system who are now both in university.
Leaside landscaper
Over the years, Rick has been helping home owners with their landscaping needs, mostly right here in Leaside. He says, "It's kind of neat when I walk my dog and see the changes to a garden, and knowing I did that."
In the last three years, Rick has done three backyard designs and one front yard landscape creation as wedding gifts from parents. "Times have changed," he says. "It used to be a Mothers' Day gift for Mom. And you know you're getting old when you start getting the sons and daughters of your clients requesting your skills."
When I ask what keeps him motivated, he jokes and says "the fear of retirement," then laughs. Rick laughs a lot. Yet there's a serious side to this happy gardener, and I can't help noticing how often he uses the word 'love' whenever he talks about his work.
"I just love meeting new people and fixing their gardening problems. I love it when I get it right and the client is happy. Working with the City, I love the physical gardening side of the job, creating something new and meaningful, updating tired parks and stretching my creative talents."
This year, a lot of that love found its way to the Riverdale Farm when the City decided to breathe some fresh air into the grounds and chose Rick to be the lead gardener.
No longer just chickens, cows and pigs
In a short amount of time, Rick (along with his amazing crew) transformed the farm through an extensive gardening cleanse and makeover, using the best horticultural practices. From rejuvenating beds, creating beds, and even discovering old beds, they added more native plants, pollinator plants and herbs along with decorative planters and hanging baskets throughout the grounds. Today it's spectacular, and one of the locations up for garden of the year under the community section. As usual, Rick gives full credit to his gardening team.
Though still a work in progress, the gardens have already become a resource for the summer camp children to increase their horticultural knowledge – something near and dear to Rick's heart after leading the Junior Gardeners program for so many years.
With such a busy schedule, Rick needed to cut back on LGS work, yet still manages to maintain the canoe, the library gardens, the entrance planter, and helps out with the garden tour. He tells me this gives him a chance to keep up with the other members, of whom he speaks so highly.
While Rick makes a lot of jokes about retirement, with his energy and gardening acumen, I'm willing to bet retirement is far off in the distance. Thank goodness!