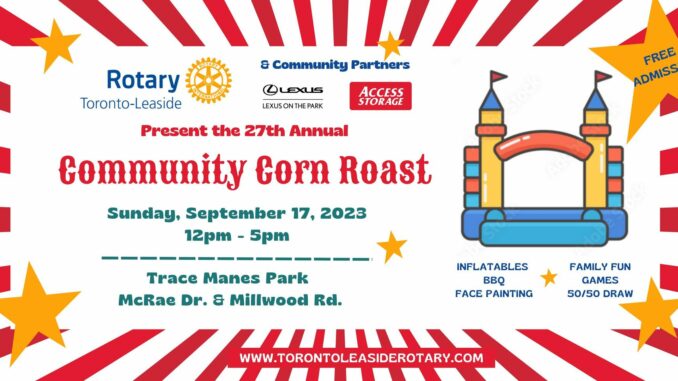 Between noon and 5 p.m. on Sun., Sept. 17, you'll want to tuck in at Trace Manes Park (McRae and Millwood) for the 27th annual Community Corn Roast, put on by the Toronto-Leaside Rotary Club.
Of course, there is corn – freshly shucked, then boiled for you. In fact, 80 dozen cobs have been specially ordered to satisfy corn cravings. As well, there will be hot dogs, drinks, ice cream and especially for kids, four inflatables. Face painting, a gift basket raffle, guessing jars, a 50/50 draw, games, local craft vendors, and a DJ will also be featured.
Admission is free. Pay for food and games with tickets, which you can purchase either with cash or via a cashless terminal.
Toronto-Leaside Rotary president Paige Fernandes as well as club members will be on hand to ensure everything runs smoothly. If you can volunteer for a few hours, your help would be appreciated. Contact Karen at .
As well as coming to have a good time, you can go home with the good feeling that the profits generated at the event are a major part of the Rotary Club's annual fundraising. Recent monies have gone to Kennedy House Youth Shelter, Anishnawbe Health Services, Abiona Centre (formerly Massey Centre for Women), the Leaside Toy Drive, and along with other Rotary clubs, to provide clean water and sanitation in Laos. Sponsorships from Lexus on the Park and Access Storage also help.
Get ready to munch on some fine corn!