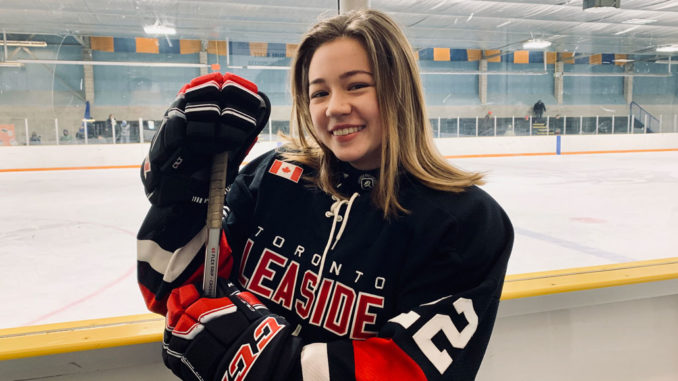 We all have our own stories about family, the good, the bad and the ugly. Some involve humour. Some involve poignancy. Some involve Hollywood-level draaaammmaaaa.
But in the case of 16-year-old Miya Karatsu, family is her inspiration.
For years, Karatsu, along with a group of other younger sisters, happily attended their big brothers' hockey games. At age 8, the girls decided they too wanted to get in on the action, and their hockey careers were soon launched.
Karatsu, already a skilled skater, wanted to emulate her big brother Cameron so she entered the Leaside hockey scene. Within three years, Karatsu was playing rep hockey with the Leaside Wildcats and still plays at that level today. Several of the younger sisters, who had cheered on their brothers with Karatsu, in fact, still play with her.
Miya says that she has made many great friends on her teams over the years. She is the only girl from Leaside High School on her current team so has friends from across the GTA.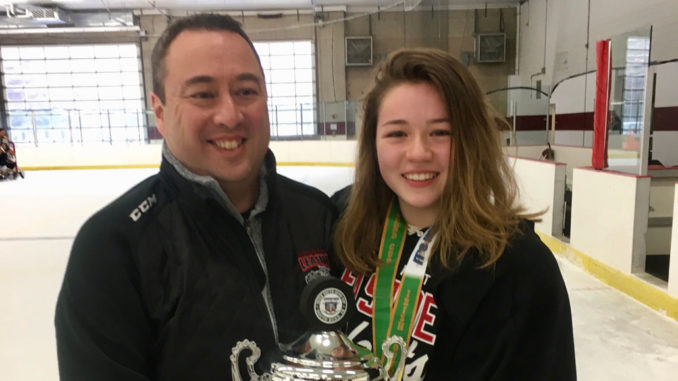 Along with her younger sister Erin, Miya has also been an avid dancer. Their mother, Stephanie, has been a supportive dance chauffeur, with each of the girls logging countless hours in the car and at dance studios and competitions. This year, as school commitments have ramped up, Miya has cut back her dance to only four hours a week. Along with her hockey schedule of two practices and one to two games per week, and her role as leader of her school dance club, Karatsu is one active teen.
Off the ice, she is a successful student whose favourite subject is biology. She loves photography and can be found painting, sketching, and baking in her spare time. She also enjoys what almost every other teen likes – some downtime with Netflix.
On the ice, Karatsu has found more familial inspiration from her father, Kevin, who she says is a fantastic leader. Popular among all the players he has coached, "K-Dawg" (as he is called fondly by his players) is a great communicator, someone who is constantly studying the game, a coach who runs effective drills at practices, and a supportive leader who consistently and constructively encourages his players, according to his daughter.
Miya has adopted her dad's communication skills and recognizes their importance as a player. The left winger has a keen sense of positioning, skating hard to where she needs to be.
As for inspiration outside her family, Karatsu was fortunate to meet, and work with, members of the Canadian Olympic women's hockey team in Montreal when she was in Grade 6. Having the opportunity to hold an Olympic gold medal in her hand and work with Hayley Wickenheiser was a truly memorable and motivating experience.
Comedian George Burns once commented that "happiness is having a large, loving, caring, close-knit family in another city."
For Miya, happiness is being with her close-knit, caring, and inspirational family in her very own home.