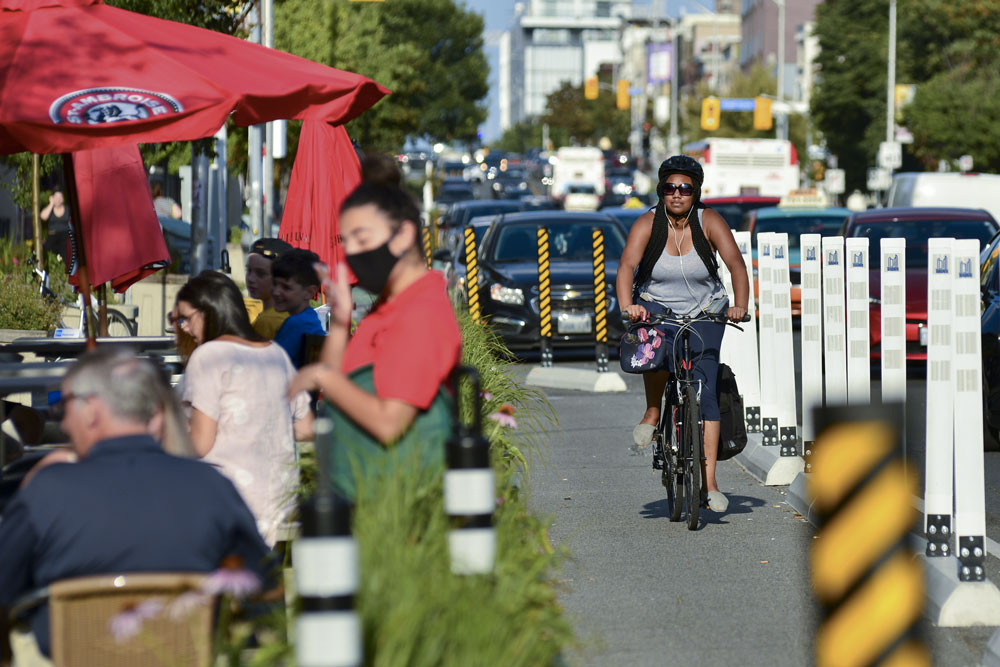 Last July, writing in Leaside Life about the lack of ActiveTO installations in midtown, I asked, "If active transportation makes sense on Bloor and Danforth, why not in midtown on Yonge Street, the busiest transit route in the city?" By this July, we'll have a chance to try out a pilot complete street transformation of Yonge between Bloor Street and Davisville Avenue, incorporating curbside patios, protected bike lanes, street safety improvements and beautification as well as parking, loading and accessibility measures.
Building on Danforth's success
ActiveTO was introduced last May as a pandemic response to give people more space to move around safely. It included quiet streets, major road openings on weekends and an acceleration of the City's Cycling Network Plan. A major success was Destination Danforth, the remaking of the Danforth as a complete street that works for all users. Anyone who visited Danforth found thriving patios, abundant parking and a steady stream of people of all ages out biking and walking in the revitalized space. The lessons learned from the Danforth experience have informed the approach to Yonge in midtown.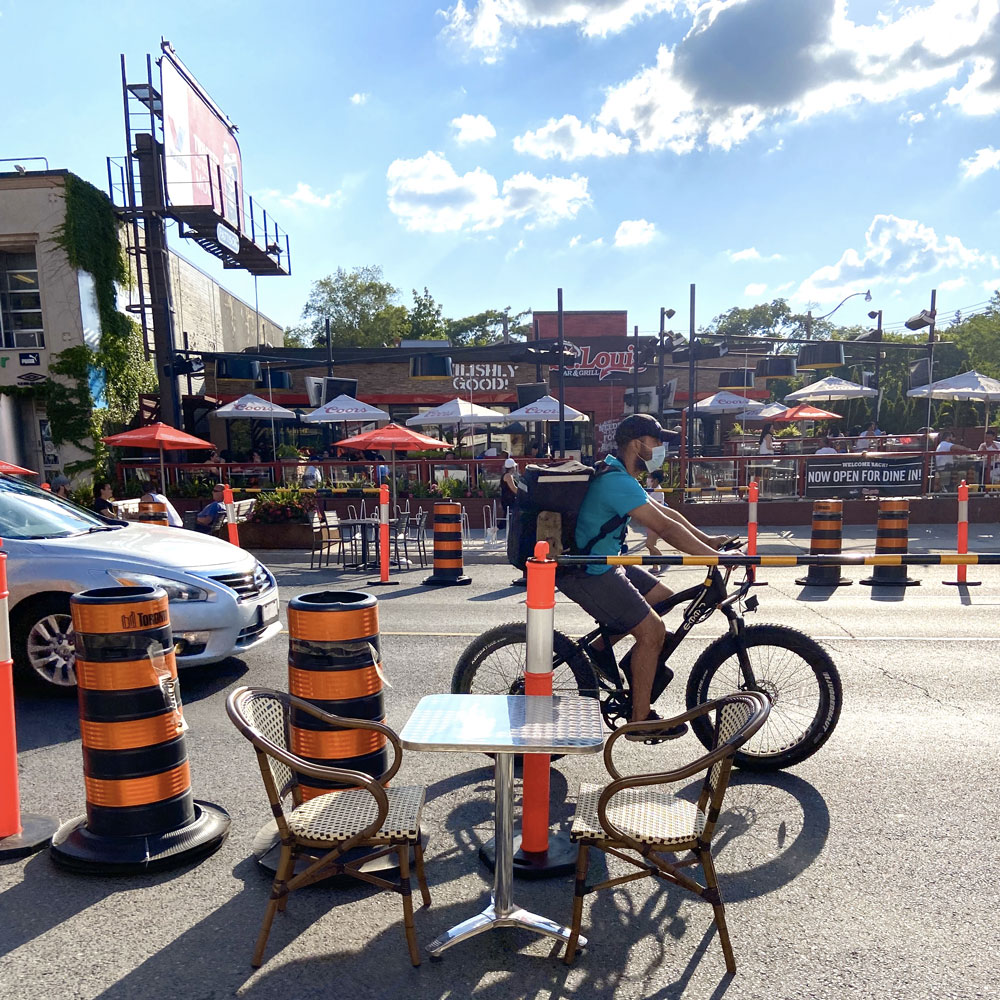 Yonge makes the most sense
Transportation Services evaluated three streets in midtown: Mount Pleasant Blvd., Yonge St. and Avenue Rd., from Bloor St. to Lawrence Ave. Besides being the main street for so many midtown neighbourhoods, Yonge proved to be the best choice overall. Ninety per cent of Yonge is mixed-use with more retail and restaurants to visit. There is lower vehicle traffic on Yonge, yet it also had more collisions resulting in serious injury or death. As an active transportation alternative to the subway, Yonge has the lowest elevation gain. Where Yonge lagged was on surface transit, specifically accommodation of TTC shuttle buses during subway closures. However, the TTC is satisfied that measures proposed by Transportation Services will ensure priority movement of transit vehicles.
Consultations well underway
Residents were key to bringing a complete street to Yonge, with about a dozen residents' associations expressing ongoing support for the project. While there is disappointment the project is not currently extending to Lawrence as was widely requested, the focus is on making sure the installation works for everyone. Transportation Services began consulting stakeholder groups in March, with more than 30,000 residents invited to a virtual consultation on April 27th. In addition, block-by-block walk-throughs with Business Improvement Areas are addressing curbside patios, parking, deliveries and accessibility as well as ways to enhance each BIA's unique identity. A big benefit of the ActiveTO pilot approach is the flexibility to adjust design as experience dictates, more quickly and less costly than with a permanent installation.
Good for residents, good for business
Complete street transformations support local residents and see local business thrive. There's no doubt Yonge will be successful, just as Danforth was. We in Leaside should ask to see the Yonge pilot extended north to Lawrence, and also seek to transform our main streets of Mount Pleasant and Bayview to complete streets as soon as the opportunity allows.