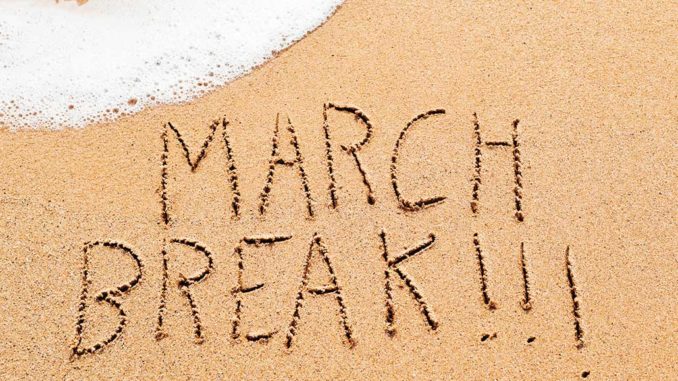 It's that time of year. Growing up in Leaside, I have vivid memories of the anticipation all of us kids felt as March Break drew near. The days leading up to Christmas and summer vacation seemed to slow to a crawl, but nothing felt longer than waiting for March Break. I know we kids were not alone in looking forward to a week off. The teachers who are friends of mine tell me that they were just as ready, and probably needed it more. In fact, I wonder if the powers that be instituted March Break in the first place, because until then, so many teachers were having March breakdowns. And who can blame them?
At this time of year, teachers are often whipsawed by two powerful forces. The months of cold, snow, sleet, slush and grey, overcast skies that precede March Break are enough to make even the strongest of us falter. Then, you add in a classroom of 30 kids in the throes of mid-winter cabin fever, and even the most experienced teachers can begin to lose their grip on sanity.
So, March Break is great for kids and for teachers, but what about for parents? When I was as student at Bessborough Drive Public School, I just assumed our parents loved March Break as much as we did. I mean, what's not to love? They got an uninterrupted week with their children without worrying about math homework, that project on timber wolves, and early morning basketball practice. But having lived through 15 years or so of March Breaks with our two sons, a week off school in winter isn't always a win-win. In hindsight, I sympathize with my parents.
I don't recall too much about our family's March Break adventures. Perhaps I've blocked out the memories. But I seem to remember we would often take a driving trip to exotic locales like Niagara Falls and London to visit family and friends. Some of our classmates were headed for warmer climes with trips to Florida or the Caribbean. But we seemed to stick a little closer to home where we could appreciate the frigid temperatures, harrowing driving conditions, and seasonal precipitation.
But as long as the motel had a pool and a restaurant, we loved it. I'm not certain my parents enjoyed it quite as much, though they always looked like they were having fun – at least until my twin brother Tim and I started our trampoline routine on the motel bed. Travelling with four kids was not easy. Our parents were badly outnumbered. Somehow, we survived. Our parents were always quite relieved the following Monday – even thrilled, I suspect – when we glumly headed back to school.
When both parents are working outside the home, managing March Break is even more challenging. My wife and I confronted this logistical odyssey every year, almost always coinciding with a very busy time at our respective day-jobs. There'd often be at least one impromptu "take-your-child-to-work-day" during the March week off school. I remember our two sons watching videos in my company boardroom as part of making it through March Break. They sometimes gave advice to my clients, too.
Those days are behind us now, but as we approach this year's March Break, I see anticipation in the eyes of children and parents alike, though I think I've caught a barely discernible sense of dread in the eyes of some frazzled mothers and fathers. Those grown-ups you encounter with an extra spring in their step, whistling happily as they saunter through the snow, must 
be teachers.