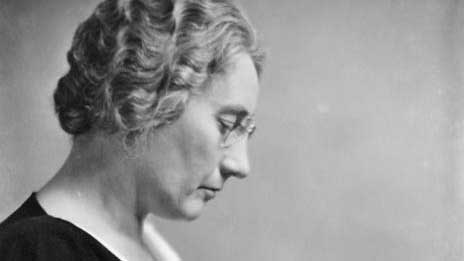 Agnes Campbell Macphail was once described as "the most important woman in public life that Canada has produced in the 20th century."
In 1921 she blazed a trail for women with her election to the House of Commons in Ottawa where she served for 19 years until 1940. In 1943, she became the first woman to sit in the Ontario Legislature, representing the riding of York East.
On March 24, 1993, Mayor Michael Prue proclaimed the first annual Agnes Macphail Day in the Borough of East York. In January 1994, East York Council established the Agnes Macphail Award.
Purpose of the award
The purpose of the award is to recognize the importance to the East York community of the issues that Agnes Macphail espoused in her long career:
• Women's rights
• Fairness to seniors
• Criminal justice system and penal reform
• International peace and disarmament
• Access to adequate housing, health care and education.
Conditions/Criteria
The annual award is presented to an East York resident who has made outstanding contributions as a volunteer, advocate, contributor to community life and leader in one or more of the above fields, but is not limited to them. These contributions should be over considerable periods of time.
All residents living in the former Borough of East York are eligible, with the exception of federal, provincial and municipal elected officials, and judges while in office. Posthumous nominations are not accepted. Previous nominations which were not successful can be resubmitted for consideration.
Nomination Information:
The deadline for receipt is midnight, Thu. Jan. 5, 2023.
The following details must be included as outlined on the nomination form:
• Nominator's testimonial
• Biography/profile of the nominee
• Affiliations
• Letters of support
The nomination form may be found at: https://www.toronto.ca/city-government/awards-tributes/awards/agnes-macphail-award/ Agnes Macphail Email:.
Agnes Macphail Award Ceremony
The Agnes Macphail Award Ceremony will be held in March 2023, close to Agnes Macphail Day on March 24.
The recipient is honoured with a medal, framed certificate of recognition, and their portrait on an honour wall in the East York Civic Centre with other recipients.
FORMER WINNERS
Kam Babulal 2022
Paula Davies 2020*
Raymond White 2020*
Karen Fraser 2019
Carol Burtin Fripp 2018
Rev. Jim Parker 2017
Patrick Rocca 2016
Muhammad Masood Alam 2015
Sheila Lacroix 2014
Alan Redway 2013
Alice Carriman 2012
John Carter 2011
Bill Pashby 2010
Patricia Moore 2009
Geoff Kettel 2008
Lorna Krawchuk 2007
Shamsh Kara 2006
George Hurst 2005
Vi Thompson 2004
Dorothy Rivers-Moore 2003
Bob Hart 2002
Grace Stephens 2001
Audrey Tobias 2000
Barbara Thompson 1999
Elisabeth & Robert Lister 1998
Ruth Goldhar 1997
Marjorie Lewsey 1996
Eileen Morris Adams 1995
J. Edna Beange 1994
*The 2020 award recipients were chosen in 2020 and their awards were presented in 2021.