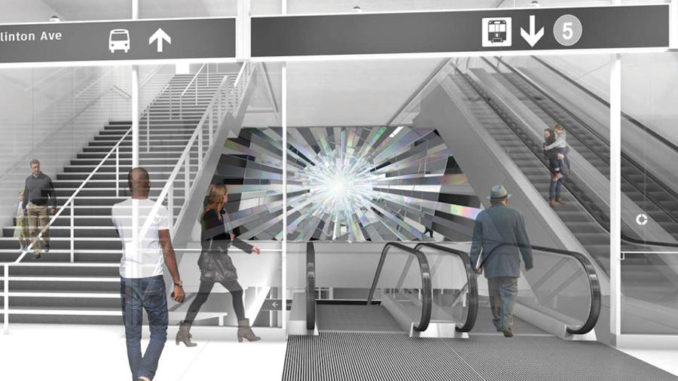 If you're wondering if your transit experience will be enhanced by public art displays at Leaside's new Light Rail Transit (LRT) stations (Leaside at Bayview, and at Laird) the answer seems to be no! But assuming your journey involves having to change to Line 1 (Yonge/University) at Eglinton Station, you will experience the "Integrated Art Program (IAP)," which means that the pieces have been incorporated into the station from the beginning – they are "built in and replace some of the material finishes that would be there anyway."
Eglinton station will house Light from Within by Canadian artist Rodney Latourelle. Light from Within is a large panel made of dichroic and mirror glass tiles, "inspired by the prismatic and reflective qualities found in minerals, crystals and gemstones." The work emphasizes the subterranean nature of rapid transit, creating a reflective backdrop and bringing light deep into the station.
So while six stations on the 19-kilometre Crosstown LRT are set to contain public art, there will be another 19 stations or stops that don't. Riders entering and leaving the Leaside and Laird stations may have to make do with the light reflecting on the contemporary glass curtain walls.