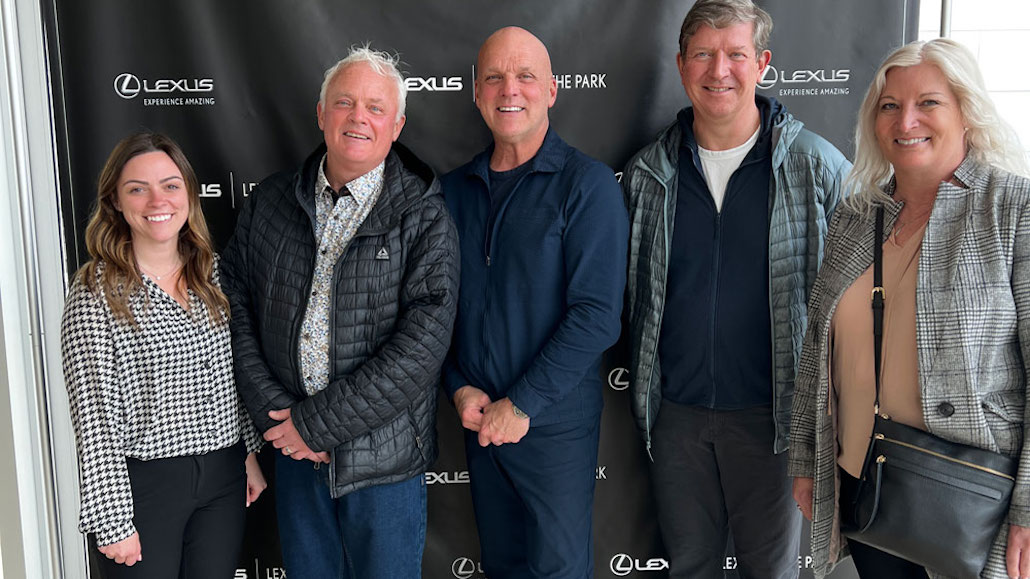 Sometimes, you get an unsolicited text, email or call that is NOT an annoyance. This happened to me on May 2nd when I received the following text message: "Thank you. … Your purchase of $64.10 at Leaside Pub resulted in a donation of $35.00 to the Thorncliffe Food Bank + the Canada-Ukraine Foundation from the Merchant as well as our generous Booster partners. Well done!"
Surprised at first, then rather satisfied, I remembered I had signed up to participate in the "Leaside Local" program (www.leasidelocal.com) a few weeks before (read about the program in Leaside Life, April 2022). Having just finished a lunch meeting where I picked up the tab, the pleasant feeling of magically conjuring up a $35 donation for worthy charitable organizations made me stop and think. …Kudos to the local merchants who are participating, kudos to the "boosters" who support this program, and kudos to the "martech" company behind the idea. In my opinion, initiatives like this that enable a 'shop local' mindset benefit Leaside. I just had to learn more.
Startup Hope Factory produces hope and shares it with others
I met with the Hope Factory co-founders Mike Zivot, a Leasider for nearly 30 years, and his business partner Richard Smith to discuss the business opportunity and the marketing technology underpinning the Leaside Local program. Remarkably, the complementary duo – "visionary" Mike "does the talking" and Richard manages "the operation" – have been friends since they were 10 years old! I first sat down with Mike more than four years ago when another local economy-focused community initiative some of you may remember – the "Local Lea" – similarly caught my attention when I was interested in exploring the value of creating a community currency I referred to as the Leaside Dollar. With Mike's extensive background in sales and marketing for non-profits and his entrepreneurial nature, it was no surprise to find out he was one of the individuals behind this new and promising venture.
The business plan is ambitious. Although Leaside is the first commercial deployment of their marketing platform, Mike and Richard confirmed that our neighbourhood is really the 'beta' test site for this solution. As the business gains traction, there is a significant target market they are determined to assist by triggering donations. These include BIAs, schools, municipalities, business associations, churches, and sports teams, to name a few. These organizations are continually seeking creative ways to raise funds, however, the ultimate beneficiaries of their value proposition are locally owned merchants and the residents who live in the neighbourhood.
According to sustainablebusinesstoolkit.com, local economies refer to economic and social systems that are part of a specific community. For example, a typical local economy may have residents who dine at a local independent restaurant. The restaurant employs residents from the community and buys goods and services from other local businesses. They purchase ingredients from local farms or suppliers, use a local law or insurance firm, and hire local musicians to play live music on the weekends. A "circular economy" prevails, which benefits the community, the residents, and the environment. Local economies include different sectors and industries that work together to contribute to local wealth creation, opportunities, and an increase in general prosperity for the community.
Many of our local small businesses are struggling
After listening first-hand to the challenges faced by our locally owned smaller businesses as they navigate the 'living with Covid' world, there is no doubt that many of them are struggling, and when these small businesses struggle, we all do. By simply making a conscious effort to change our behaviour and to proactively shop local, these besieged businesses will regain their strength and vitality and this benefits Leaside in several ways.
When we support local businesses, research reports that for every $100 spent at a local business, $74 remains local (recirculates) as opposed to only $43 that remains local of your hard-earned dollars spent with the national and international big brands. This means more dollars spent locally can be re-spent locally, increasing the overall level of economic activity and leading to an increase in the tax base which can be used to improve local infrastructure. Further, small businesses typically account for over 80% of new job creation and provide nearly 90% of all employment in the private sector. Not to mention they contribute to local charities, support local events, sponsor our children's teams and are known to provide a higher level of personalized customer service built on long-term relationships. Casting the economic lens aside, our local business community is a source of pride for many Leasiders and contributes to the uniqueness of our neighbourhood.
Mike and Richard are on a mission "to produce hope and share it with others." Their work benefits local merchants and helps raise funds for worthwhile charitable organizations. By creating value for all stakeholders, their business model and technology are helping strengthen our local economy. Thriving local merchants, game-changing boosters, successful local entrepreneurs, and a community supportive of the 'shop local' ethos, all collectively working for mutual gain. When combined with technology and experienced leadership it's a potent combination. Perhaps it's time to invest! For as long as I can recall, I have had a passion for entrepreneurship. I'm happy to report it is alive and well in Leaside.
Have you enrolled in the Leaside Local program? Can you think of any merchants or boosters who should join the program? Would you be open to alternative business models such as barter (e.g., She Shops Swap) or a community currency (e.g., Leaside Dollar) that benefits Leaside in unique ways? Let us know at