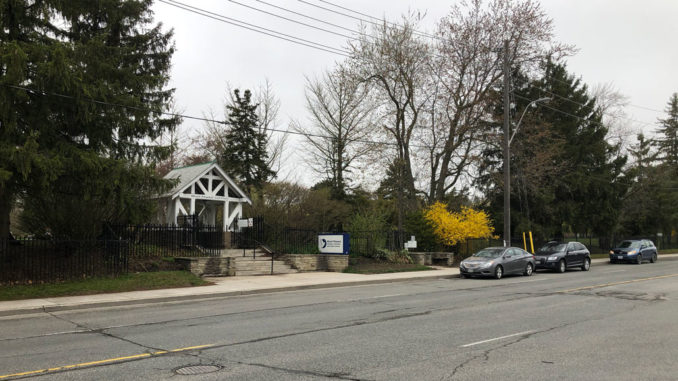 Mt. Pleasant Cemetery is a not-so-little Garden of Eden right on Leaside's doorstep. Much more than just a cemetery, it's officially a botanical garden as well, filled with a dazzling variety of trees, bushes, and shrubs, all connected by winding paths.
It's not surprising that it's so appreciated and well used by families and individuals of all ages, pedestrians, runners and cyclists alike. It's a major recreational hub, popular and well-attended year-round.
But isn't it a shame that you more or less have to take your life into your hands to get to and from Leaside and the cemetery?
The cemetery's dedicated pedestrian access point is on the west side of Bayview Avenue, directly across the street from the intersection of Sutherland Drive on the east side. In between is traffic. Heavy traffic, travelling north and south at high speed.
If you stand nearby for any length of time to observe the action, you'll see an almost constant flow of pedestrians (some with baby strollers, some wheeling bicycles, or leading dogs on leashes), dodging and weaving to cross the street. And don't forget the 88 South Leaside bus, which turns at Bayview and Sutherland, blocking drivers' view of pedestrians. It can be hair-raising just to watch, let alone attempt to navigate.
Can't safety be improved at this location? The Leaside Residents Association has been asked this question many times over the years. We are asked, why do people take such chances? We recognize that people could walk south to cross Bayview at the traffic light on Moore Avenue (over 200 metres away from the cemetery access point) instead, or they could walk north to the traffic light at Merton Street/McRae Drive (about 250 metres away), but both are significant distances – a real disincentive to use regardless of the season or the weather.
You may recall that the LRA's proposed traffic calming plan is on record as opposing any measures which attract or increase through-flow traffic onto our residential streets. Surely something can be done at the site of the cemetery entrance itself which would increase safety without such undesirable and unintended side-effects.
The LRA will raise this enduring issue with Councillor Jaye Robinson and Eric Chan, manager of the Leaside Neighbourhood Transportation Plan. I do not pretend to have the answer, but I am certain that, if we work together, we can – at the very least – come up with an improvement.
Otherwise, this location is just an accident waiting to happen.
Our next LRA monthly board meeting is on Wed., June 1st, at 7:30 p.m., via Zoom. If you'd like to watch or participate, please let us know by that date and we'll be glad to send you the Zoom access details. You can find us at www.leasideresidents.ca.