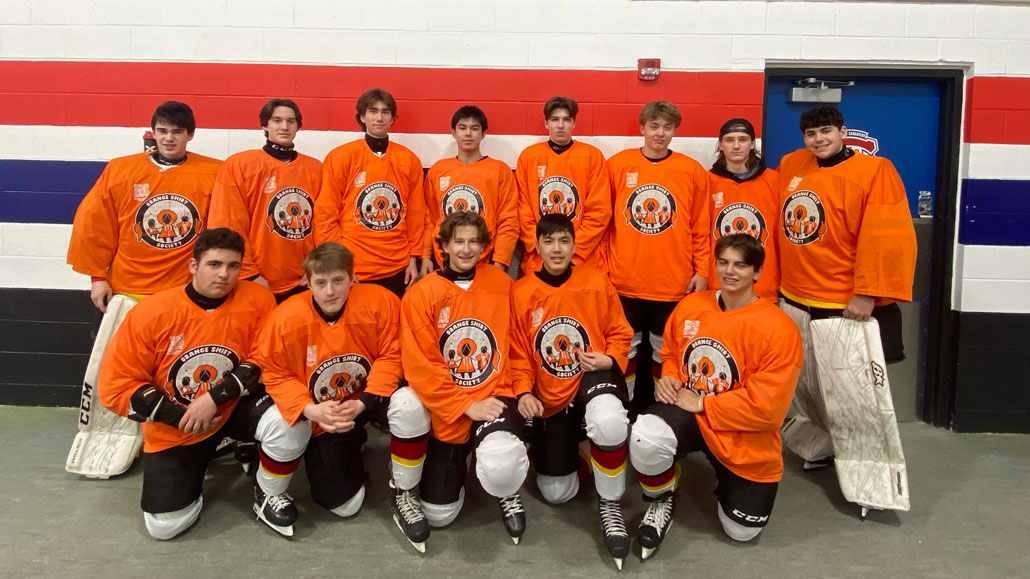 Hail new kings of the east
The Leaside Flames Under 17 AA boys hockey team won the Eastern Championship, triumphing against their long rivals, the North York Knights. These determined players battled through a rocky season, rapidly adapting to the loss of teammates from Covid and injuries. As the Flames entered into the playoffs – without either their captain or their fourth highest scorer – they stubbornly fought their way to the finals. They faced the Knights, a team they hadn't beaten all season, yet emerged victorious after a climactic game ending in an overtime win. "It was a huge win against a team we had lost five straight games to," says Head Coach Robert Stanley. "We managed to win the East with a depleted roster, with help from a couple of call-ups from the Leaside A team."
Getting into the swing
Have you noticed the new red gates along the Bayview Extension at Pottery Rd,, Rosedale Valley Rd., and River St? These barriers, weighing up to 1,400 lbs, are part of the Lower Don Traffic Management System for flood mitigation. They are used to gradually merge traffic to exits and to rapidly close the road during the seasonal floods that lower Bayview commonly experiences. While costing over $600,000 to construct just the gates at the Pottery Rd. location, these swing gates are extremely beneficial compared to manual barriers. They are sturdier, can be operated remotely, and employed for as little or as long as needed, reducing the need for human involvement at the scene.
Leaside musician rocks the El Mocambo
With nearly 40,000 monthly listeners on Spotify, Chris Graham, also known by his stage name Chris Grey, is a Leaside-originating R&B and pop artist who took to the stage at the infamous El Mocambo on May 3rd. As the spotlight artist, Chris serenaded the crowd with some sweet tunes from his recently released album Together, but Barely. The colourful downtown venue has hosted countless worldwide sensations such as The Rolling Stones, Joan Jett, U2, The Ramones, Elvis Costello, and many more. Now, the ElMo can add one more legendary artist to their archives: Leaside's very own Chris Graham.
Leaside's best kept secret?
Hidden away to probably even the savviest Leasiders is the green space spanning approx. three-quarters of an acre located behind the Leaside Memorial Gardens Pool. Until a few months ago, the sole entrance to this natural expanse was a narrow path just east of the pool's entrance. All other sides of the green space were enclosed by nearby houses. On Nov. 9, 2021, one of the surrounding properties, at 21 Southvale Dr., was bought for under $1 million by Concert Real Estate Corporation, and was torn down to provide a larger entrance to the soon-to-be City of Toronto park. This park will form part of the parkland dedication requirements for the proposed Sunnybrook Plaza redevelopment (also developed by Concert Real Estate Corporation) located at the intersection of Bayview and Eglinton.
Exclusive club open to all
Welcome to the 21st century! The Leaside Men's Bridge Club has transformed into the Leaside Mixed Bridge Club, now welcoming women as members! Over the past 61 years, senior men across Leaside have met weekly to play bridge. Throughout the pandemic, the club continued to meet online, and welcomed women to join in on the virtual fun. Bridge club treasurer Jim Krafchik explained, "We welcomed ladies to this once male-only group, so the men's club was defunct. But we didn't care. We were having fun! The group is okay for beginners, very good for good beginners, and just fine for intermediate players who value good company and fun over excellent play." The Leaside Mixed Bridge Club has returned to playing in-person at Trace Manes Community Centre from 12:30 p.m. to 3:30 p.m. each Thursday, and is welcoming both men and women, senior or not. A $1 donation from each attendee helps pay for prizes, permits, and cards.
This month's Curious Idler was prepared by Claire Hu, a Grade 12 co-op student at Northern Secondary School.