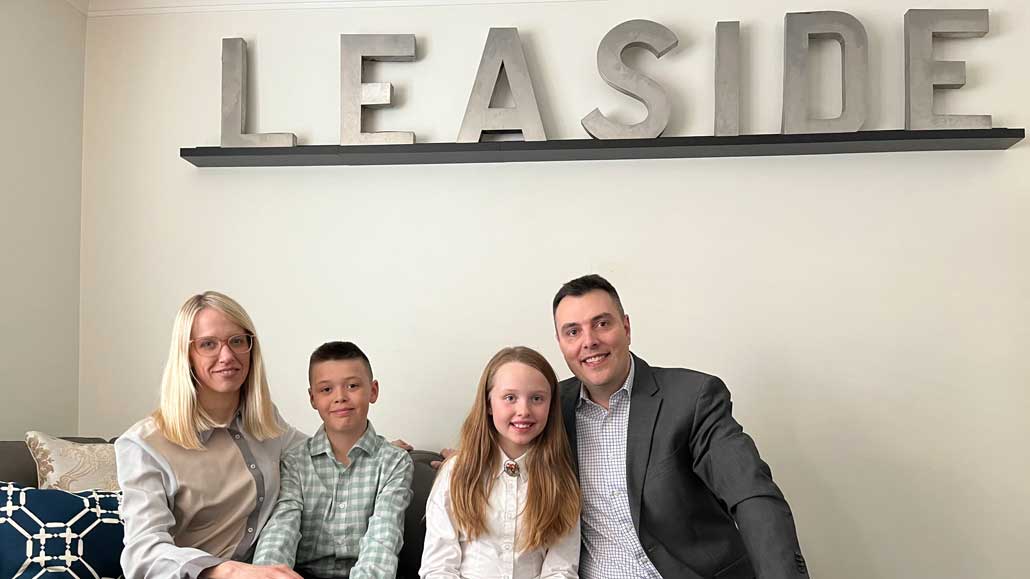 Leasiders seem to love walking. Venture out any day of the week and you're sure to cross paths with others, and especially on Bayview Avenue. Back streets tend to be quieter, but look closely and you'll discover they showcase many treasures of Leaside's past.
With Leaside celebrating its 110th anniversary of incorporation as a town, why not curate your own historical walk by strolling by a few historical homes researched by Alex Corey? He's a local realtor at Heaps Estrin with a master's degree from Columbia University in historic architecture and preservation. For a more detailed walking guide, check out Geoff Kettel's May 2020 article (https://leasidelife.com/walking-tour-of-west-central-leaside/).
Here are some of the top picks: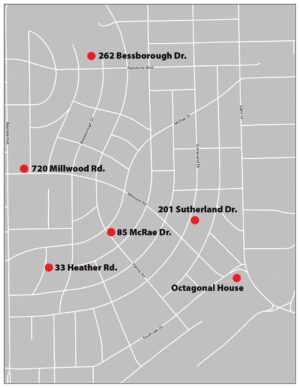 33 Heather Rd.
"Stroll by 33 Heather Rd. There you'll find the house of John Edmund Lea, grandson of John Lea. Built in 1902, its tall windows, sheer size and width are unique and, surprisingly, Leaside's street plan resulted in the home's back wall facing the street and entranceway facing the back yard. Otherwise, the home remained virtually as Lea had built it until 2004 when the Kypreos family purchased it and added a wraparound porch and front door facing the road."
201 Sutherland Dr.
"Wander over to 201 Sutherland Dr. There you'll see John Edmund Lea's brother James Lea's house built in 1909. The house is a typical Georgian Revival type constructed between 1880 and 1940s in rural Ontario. It's a simple symmetrical brick two-story farmhouse with steep gabled roof, matching brick chimney and centred front door, which was also disoriented to face the side of the neighbouring house, by the 1912 street plan."
Perhaps, like Leasiders today, the brothers grumbled around the kitchen table about local planning decisions.
85 McRae Dr.
"At 85 McRae Drive you'll find the house of former Mayor of East York Alan Redway with a centre hall design, large windows and a hip roof where all four sides slope downwards from the peak."
720 Millwood Rd.
"Next, at 720 Millwood Rd. you'll find Agnes Macphail's house, the first woman elected to the House of Commons. Built in 1937, it represents a change in housing style and purpose. It is a multi-family duplex with a flat roof and minimal brickwork emphasizing horizontal lines. Its one extravagance? A six-sided porthole window over each door."
262 Bessborough Dr.
"At 262 Bessborough Dr. you'll find the Thomas G. Elgie farmhouse built in 1883. Its details are described on an historical designation plaque viewable from the sidewalk. Unfortunately, you won't find the octagonal house built in the 1850s by William, son of John Lea. Inspired by Orson Fowler's 1848 book The Octagonal House, it had features similar to octagonal houses built in North America between 1850 and 1860, but, sadly, it burned down in 1913."
201 Sutherland Dr.
John Lea, current Leaside resident, and great-great-great-grandson of 1819 pioneer farmer John Lea reminisced, "As a youngster, my dad, Tony Lea, always commented when we walked by 201 Sutherland, 'that house is where your granddad, Edgar Lea, was born.' Built by James Lea, my great-grandfather, the house was located just a few doors down from my childhood home on Sutherland."
Both John and his dad Tony Lea spoke at the 2013 celebration of Leaside's 100th anniversary. If you attend the 110th celebration you're sure to cross paths with John, whose family gave Leaside its name.
Learn more:
•
• https://leasidelife.com/walking-tour-of-west-central-leaside
• http://www.torontohistory.net/william-lea-house-leaside