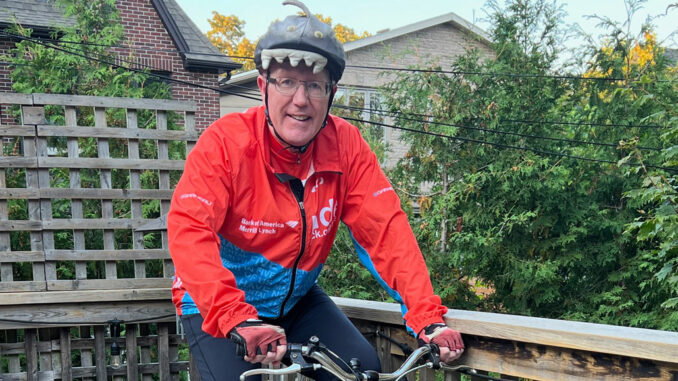 It's been a tough time for jack.org fundraiser extraordinaire Tim Sellers, a super active Leasider sidelined by an Achilles tendon injury over the summer.
Tim's always been active in sports – hockey, track and field, but above all cycling. Riding his bike was how he got from his home in Leaside to University of Toronto Schools downtown as a teenager.
At Queen's from 1978-1982, one of his acquaintances was Eric Windeler. Though they lost touch over the years, they met up again at a dinner in 2010 where Eric spoke with pride about his son, Jack, who had just started at Queen's. A month later, Jack died by suicide. His parents, Eric Windeler and Sandra Hanington, started a memorial fund at Kids Help Phone.
As it happened, Eric knew Peter Oyler (who grew up in Leaside), owner of local bicycle business Mindset Cycling and an avid competitive long-distance cyclist, and they came up with the idea of a bike ride as a fundraiser.
By coincidence, in 2009, Tim was invited by another friend to ride to help raise money when Oyler was doing the grueling Ride Across America. This got him into the orbit of cyclists raising money in Jack's memory.
Sales guy
It might be useful to know that Tim describes himself as a "sales guy" and has spent his career in Canadian publishing.
So, it wasn't strange that after his 59th birthday, he decided to write occasional emails with the title "Tim and his world" (TAHW), leading up to the momentous 6-0. One of the events he promoted was his participation in the spring ride for Jack.org. After his 60th birthday, he intended to stop these occasional emails, but enjoyed the writing and was so encouraged by people on the list that the emails continue to this day, now under the name "Tim and Hedy's world," to include his wife, Hedy.
The annual rides for Jack.org continue to build support. Over the years, Tim realized that fundraising for physical ailments was getting more attention, but he also became more aware of the challenges especially around youth mental health. This made fundraising for Jack.org a very good fit. Jack.org, according to the website, has evolved since 2010 into "Canada's only charity training and empowering young leaders to revolutionize mental health in every province and territory."
This past spring at the Caledon ride, Tim attracted a total of 91 individual donors and raised $24,103, and was recognized as the top Peer-to-Peer fundraiser. On his list, he has over 200 names, including four who have donated every year. And since Tim still lives in Leaside, if you see him around, he'll be happy to add you to his list. He's had many people thank him for making them aware of the need for youth mental health resources support.
And yes, you do get an official tax receipt for your donation, but you also get a unique thank you from Tim in the form of a custom short video, just for you. Ever the sales guy!
Tim's cumulative total raised for Jack.org is now over $112,000. Congratulations, Tim. Keep riding!