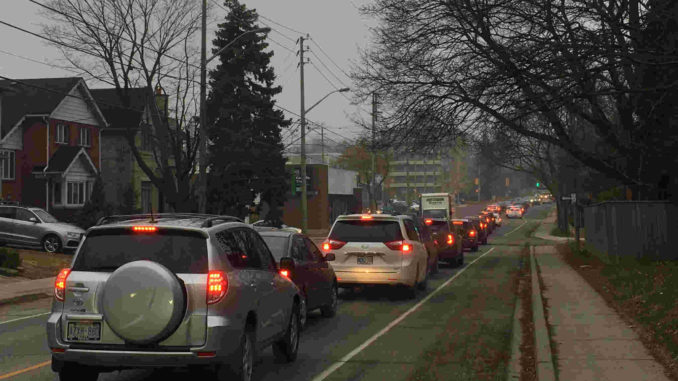 By the time you read this, the first phase of the City's Leaside Neighbourhood Transportation Plan (LNTP) will have been presented to North York Community Council. Over the past three or four years the LNTP team has been collecting data on traffic volumes, speeds, and patterns, and holding occasional public consultations on Zoom.
I am able to give you some general comments in this edition of Leaside Life. A more detailed report will follow next month, by which time the North York Community Council will have received Phase One of the study and voted on proposals made – so far – by the LNTP team.
If you have previously contacted the LNTP planners, or sent suggestions to them, you will have received an email in mid-October listing the details of Phase One. If you attended the June 2023 LNTP Zoom event, you may recall the map of Leaside illustrating Phase One's recommendations. These are quite modest proposals, not yet a full neighbourhood pattern. Before anything happens, there will first have to be further communication with residents, followed by a detailed polling process.
This is only Phase One. Phase Two is in the still distant future, delaying a more complete approach to our traffic problems. More about my concerns about that in next month's column!
Additional talking points: school streets receive extra attention, with speed humps (not "bumps") located mid-block. You may question the effectiveness of speed humps, and the specific locations chosen, but they have the advantage of being relatively low cost. Leasiders may also want to suggest use of paint (which is also low cost) to redesign more neighbourhood intersections, as the comparative cost of more permanent physical measures could prevent or delay their installation.
New traffic signal
Another proposal, made many times, is going to North York Community Council now: to install a traffic signal at Bayview Avenue and Sutherland Drive, to provide a much-needed safe crossing for pedestrians and cyclists, and easier access to Bayview for the TTC Route 88 bus.
We support the traffic signal, with the strong recommendation that measures be taken to ensure the result does not encourage Bayview drivers to turn into Sutherland at that corner. The LRA proposes, if the new traffic signal is approved, that traffic on Sutherland (and Bessborough Drive north of Sutherland, parallel to Bayview) be counted both before and after installation to measure actual impact, and any issues be addressed promptly.
We also need to know: will the traffic signal be operated by pushbutton (or transponders for TTC drivers?), with a head start signal (LPI) for pedestrians. A long or short signal? The current dangerous crossing situation must be addressed.
Among other recommendations in Phase One of the LNTP are that angle parking by Trace Manes and near Laird at McRae be replaced by parallel parking, with possible overnight parking regulations and/or permit parking to be considered.
Regarding Phase One as a whole, I think most Leasiders expect more of a long-term, truly area-wide, strategy from the City.
I am disappointed that there was no opportunity to schedule another public consultation meeting before submitting Phase One to North York Community Council. We ask for more consultation opportunities as we move ahead to ensure opportunity for fine-tuning.
What do you think? If you write to the LNTP team or Councillor Robinson, please send us a copy.
Our AGM will take place on Wed., Nov. 22, in the William Lea Room at Leaside Gardens, at 7:30 p.m. We have invited our Councillor Jaye Robinson, MPP Stephanie Bowman, and MP Rob Oliphant, and are approaching additional speakers you'll want to hear from. This is a great opportunity to find out all Leaside's issues, ask your questions and share your opinions!
The LRA board meets on the first Wednesday of each month, in the Trace Manes building at Rumsey and Millwood, and we welcome deputations and attendees. The next monthly meeting takes place on Wed., Nov. 1, at 7:30 p.m. You can always find us at www.leasideresidents.ca.