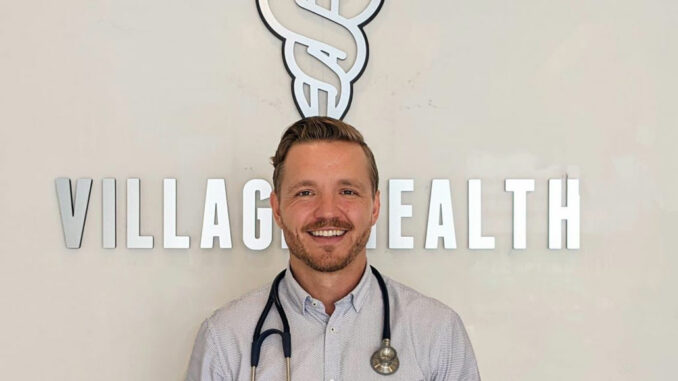 You'd be hard pressed to find a naturopathic doctor (ND) with as much enthusiasm as Taylor Blixt. In fact, the word "blixt" in Swedish means lightning, which is fitting for Taylor and the energy he uses to promote a healthy lifestyle.
Taylor is a recently certified ND, having completed his four-year post-graduate program at the Canadian College of Naturopathic Medicine (CCNM) in North York. During his undergraduate years at Western he majored in medical sciences with a view to applying to medical school but realized his real passion was for holistic, preventive healing. After all, Taylor was raised in a home that combined modern remedies with traditional healing wisdom. He remembers his mom applying a generous dose of golden seal tincture (a medicinal flower) on cuts under an adhesive BandAid. His grandfather was a chiropractic doctor in Manitoba for over 50 years. CCNM turned out to be the right fit.
Since the summer of 2023 Taylor has been working at a local establishment, the Village Health Clinic, on Mount Pleasant Road just beside the Regent Theatre. There he helps patients with their overall wellbeing by focusing on nutrition, sleep, stress management and mental health. To achieve that he uses a combination of acupuncture and counselling.
Taylor has noticed that many of his patients, at the initial consultation, are overwhelmed by health information that is "out there" and unsure what they really need. He says "my getting to know the patient is key because that way I can improve their mental, emotional and spiritual health. It means sitting with the patient and listening well so that a professional trusting relationship is established. It is after this point that true healing takes place."
A good listener and speaker
He has already made community connections by liaising with health teachers at Leaside High School with a view to offering workshops to students on diet, sleep and good overall health. During his high school years in Oakville, Taylor played football so he understands the joys and strains of balancing school and athletics. "I can empathize with the students, especially males, whose body image is often negatively impacted by social media. I am excited to listen to their experiences so that I can help be a catalyst in their developing a healthier self-image." Taylor is adept at "massaging" patients' mental concerns.
At the Village Health Clinic Taylor offers a service not every naturopathic doctor can provide: Reiki, a Japanese healing technique that helps reduce stress. He did his training and ultimately became a Reiki Master in 2020. He also hosts breathwork and meditation classes, which he says "are proven to relieve stress and increase energy; the beauty of it is it can be used any time, anywhere."
Dr. Blixt has taken the Leaside area by storm; his passion and energy make him an effective practitioner in improving mental, emotional and spiritual health one patient at a time.
This article was guest contributed by Mitch Bubulj.