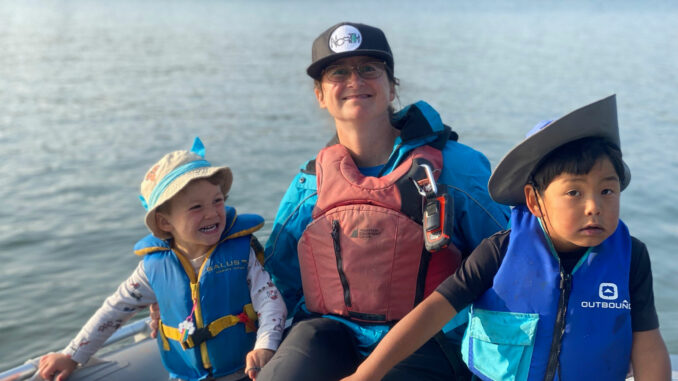 Several weeks ago, the Leaside High School retired teachers' network (including me) was buzzing with the news that a graduate from 1995, Claudia Kraft, was spotted on the news in her role as medical director for the Northwest Territories and a spokesperson during the recent wildfire crisis. She was reporting on patients returning to Yellowknife hospitals after being evacuated during this period.
Dr. Kraft's important role comes as no surprise to her teachers, based on her talents and many accomplishments during her time at LHS. Highlights from those years include two drama productions, special projects in biology, English and history, and two trips to Japan. In her final year, she excelled as school captain, working with staff, students and other community members.
After LHS, Claudia attended Queen's for biology and political science, then earned her Master's in biology. While in graduate school, she volunteered with Queen's Medical Outreach, where she met her future spouse, Steve Kraus, and decided to enter medical school. As part of her training, she did rotations in Nunavut, Inuvik and Iqaluit as well as a family medicine residency at UBC (Kelowna). These experiences got her "hooked on northern life and work and the richness of community and culture in the North." She lived in Nunavut, then moved to Yellowknife in 2013 while adding emergency and addiction medicine to her specialties. Today, she, Steve, also a physician, and their two sons, Henry, 7, and Sasha, 5, love living "in close proximity to the land."
Over time, Claudia has taken on more leadership roles, eventually stepping into her current role in 2022 as the director of all hospitals, health centres, long-term care and the system as a whole. She now participates in system design and innovation as well as managing the core work of hospitals, primary and continuing care. She finds the job extremely challenging, but very meaningful as she "learns and grows and stretches every day."
Claudia's most daunting challenges, however, occurred in the past few months with the worst wildfire season on record. Her work involved navigating complex patient movement, planning and executing patient evacuations during extremely dangerous conditions. It was her job to be the clinical lead for most of those operations and all of the partnerships with the jurisdictions to ensure continued quality of care for all patients, both inside and outside the territory, and then to reverse the process after the crisis subsided. She also acted as the primary spokesperson for the health system to provide information to the media.
At the same time, Claudia was coping with evacuation as a parent, the displacement and separation of her family, a case of Covid and "relentless hours of work." She says that through these difficult times, she was "grateful to have truly amazing family and friend support, including in Leaside for part of the evacuation with family and some amazing help from fellow Leaside alumni."
Claudia occasionally does get back to Leaside, where her mother still lives, for holidays and visits, and says that stressful times make her miss her loved ones even more than usual. She has even noticed similarities between Leaside and Yellowknife. Both are small, but vibrant neighbourhoods, "rich with volunteers keen to build a great community." And like Leaside, Yellowknife is "very family-focused and a great place to raise kids with great schools." But unlike Leaside's urban landscape, Yellowknife is "nestled in the Canadian Shield with an endless expanse of jack pines and lakes." No wonder Claudia is now hooked on the North.