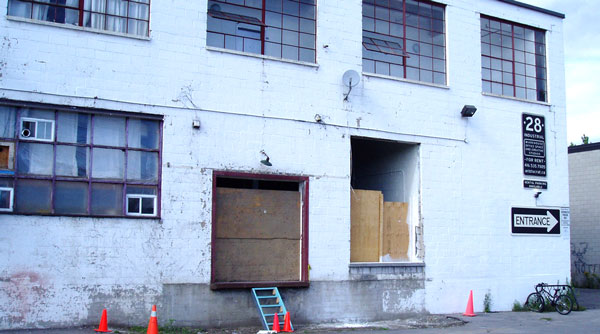 The industrial area east of Laird has undergone changes in recent years that have resulted in a mix of tenants different from the norm, most of which probably wouldn't have existed 25 years ago among a bunch of messy industries, but do now because of the movement to more of a mixed-use neighbourhood.
Originally this column was to provide information on some of these businesses. But then I visited 28 Industrial St., a massively long and narrow two-storey warehouse/ loft smack dab between Kreitmaker, a supplier of concrete mix, to the south, and to the north Apco Industries Co. Limited, which supplies oils to metalworkers, etc., and I knew I had to write about this building and the people within its walls; everything else could wait.
Sitting in Julie McMeekin's unit on the second floor staring out at the pipes running here and there across Apco's property it struck me how different the industrial area truly has become.
Julie runs ArteMbassy, a visual arts program for kids and adults that's been going strong for the last nine years, all at 128 Industrial. Carefully selected art teachers deliver classes on varying subjects to generally no more than 12 students at a time providing instruction that is very much hands-on and participatory. She used to do some of the teaching but as its grown she's stepped aside to handle the bigger picture of her business.
McMeekin also opens the studio for speaking engagements, photo shoots, parties and tours both locally and beyond Leaside. Two week-long tours of Cuba are currently planned for November and February.
If you look out on those pipes while simultaneously gawking at the high ceilings, cool floors and old school floor-to-ceiling windows, you can't help but be impressed by her business. The fact that she's been able to thrive amidst this industrial, gritty environment is a testament to her passion for art.
Second on my list of interesting tenants at 28 Industrial St. is Lee Munroe, a 60-something artist, sailor, advertiser, mother, and all-around renaissance woman. Julie introduced me to Lee; we met up a few days later to discuss her art and life.
Let's just say that anyone who can sail the world for five years (with her husband and daughter) has got to be full of life and positive energy, especially since it wasn't her idea, rather her husband's, for embarking on the five-year journey.
Smart as a whip, Lee was able to extract from her husband his agreement that upon their return she would do nothing but paint. Since 2004 that's exactly what she's done, all of it at 28 Industrial.
Her paintings are vibrant in colour covering landscapes, portraits and whimsical snippets of moments in time. Self-admittedly not a commercial painter, she nonetheless continues to sell her work to those who share her same fascination with life.
Lastly is Kevin Charles, proprietor of My Favourite Trainer, a fitness and personal training business he set up in 2009 after five years doing the same type of work with the Sports Clubs of Canada. Most of Kevin's work involved visiting clients at their homes or workplaces running them through bootcamp-style fitness workouts.
About a year ago Kevin decided to take the plunge. Nervous about whether he could get clients to come to a gritty area, his decision was a leap of faith that's worked out remarkably well. Soon he will be moving downstairs to a slightly bigger unit with much greater natural sunlight and direct access to a very large parking lot immediately in front of his unit.
Admittedly, Kevin chose this rough around the edges building because the rent was reasonable, not to mention close to most of his customers, 80 percent of whom are professional women living in the Leaside and North Toronto areas. But he's been very happy with the image his business projects to customers.
Anyone who's lived in Leaside for a decent amount of time has probably driven by 28 Industrial St. numerous times and never once stopped to check out what's inside. Well, the next time you do, stop by and say hello.
There's more to Leaside than just Bayview and Laird.