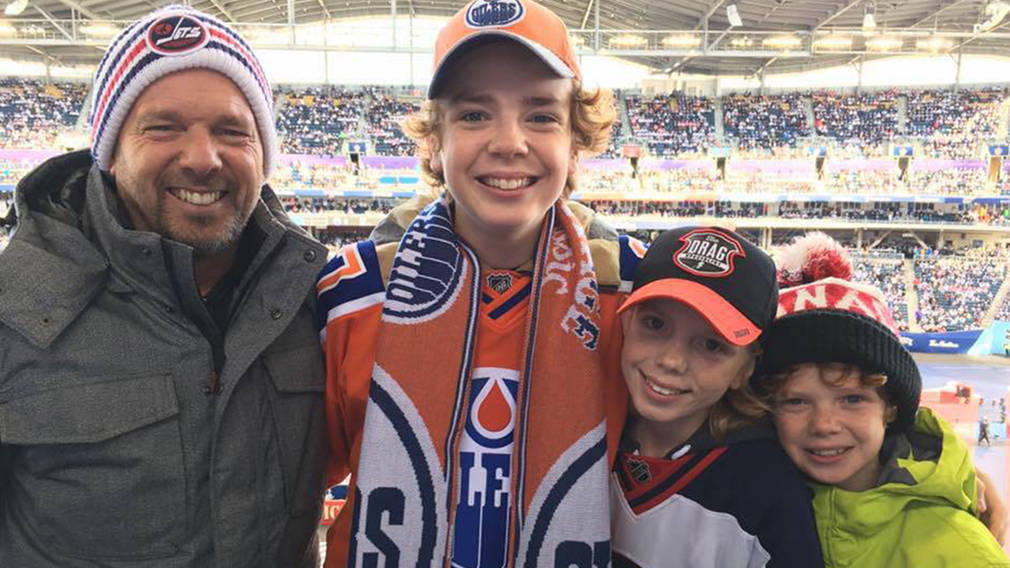 "Have you heard the news? There's been Good Rockin' Tonite!"
If you were a kid born in the mid to late '60s or early '70s like me, that line might be familiar. Every Friday night there was one show you wouldn't want to miss. If you had plans to be out you made sure you had a tape in the VHS or Betamax and set it to record.
That show was CBC's Good Rockin' Tonite, which played all the latest music videos and did interviews with the hottest recording artists of the day. The show's host from 1985 until 1993 was a cute blonde guy named Stu Jeffries.
Fast-forward 27 years; it's September 2012. I'm in the playground at Bennington Heights School; my son is about to start Grade 6 at his new school. We had recently moved from Leaside to Bennington Heights. In the schoolyard I see a face that looks somewhat familiar, a tad older, a little less hair, but still familiar. Who is this guy? Where have I seen him before? A week or so later I get the class list and there's my answer: it's Stu Jeffries! His eldest son is in my son's class.
Stu is a veteran of the Canadian radio and television industry, starting his career at the age of 18 in Yorkton, Sask., as the overnight host for CJGX. Stu attended broadcast school in Winnipeg at the now defunct National Institute of Broadcasting. Over the years, Stu moved up and down the radio dial, moving between western cities, living in Winnipeg, Edmonton, Regina and Vancouver while working in both radio and television, many times concurrently. His ultimate goal was to make it to Toronto, a goal he achieved in 1997.
Until 2008 Stu was best known for his eight-year stint as host of CBC's Rock Video show Good Rockin' Tonite. At GRT, Stu had the enviable job of interviewing music icons such as Paul McCartney, Madonna, Janet Jackson, Bryan Adams, and Mariah Carey as well as film legends including Tom Cruise, Nicole Kidman, Matt Damon and Meryl Streep.
Stu is currently the morning host on boom 97.3, a job where he will be celebrating his 10th anniversary in early 2019. Through boom, Stu has become involved with Make-A-Wish and each morning a listener plays The Stu Jeffries Thousand Dollar Make-A-Wish Minute. In the last two years he has helped to raise $172,000 through the generosity of boom 97.3 listeners and corporate donors.
Stu's television career included hosting duties for more than a dozen national shows on all major Canadian networks. His personality and versatility as a host were reflected in the variety of programs he hosted, from kids' shows (CBC's Switchback) to sports talk shows (Global's Million Dollar Ice Picks), the Commonwealth Games, and as a VJ at Country Music Television (CMT) to name a few.
In 1997, at a CMT function, Stu met his beautiful wife Anne. They married in August of 1999. Together they have three sons. Ben, 17, is in Grade 12 at Northern Secondary School. Leo, 15, is in Grade 10 at Leaside High School, and Sam, 12, is in Grade 7 at Bessborough Drive Elementary and Middle School.
Millie the Border Collie is the other member of the family.
In 2019 Stu will celebrate his 40th year in the broadcast industry. As long as he has a microphone and audience he'll be rockin' the airwaves.