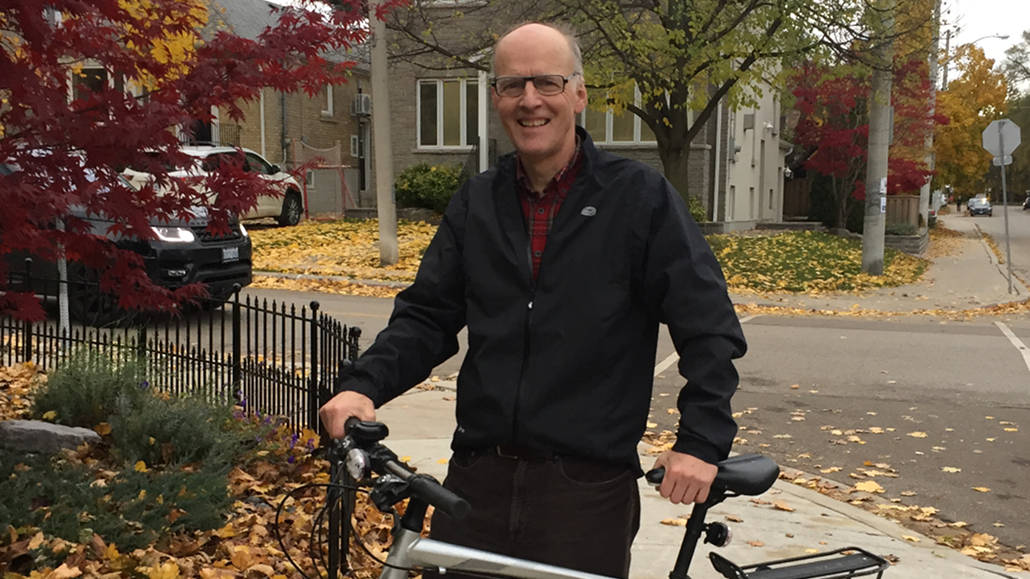 Russell Sutherland has been cycling to work for more than 35 years. Phil Oliva became a convert to pedal power 12 years ago. What makes these two Leasiders committed cycling commuters?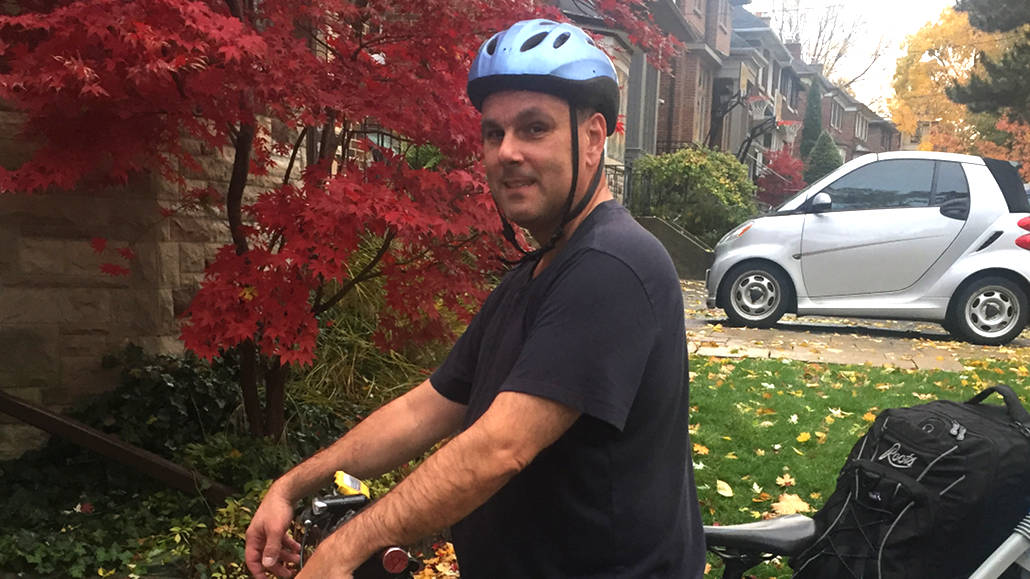 More freedom, less stress
Phil loves to drive and could get to work faster by car, but the stress associated with rush-hour traffic and the unpredictable nature of transit motivated him to give cycling a try. "A bike ride that lasts 40 minutes makes you feel great and that feeling lasts for hours. Driving and transit never do that," explains Phil.
Russell appreciates the freedom. Cycling lets him come and go on his schedule, it's faster than transit, and, when the time to park is factored in, it's speedier than driving as well. He also likes that cycling costs next to nothing.
Downtown versus uptown
It helps that both cyclists are heading downtown for work. From Leaside to downtown, speed limits are generally lower and the cycling infrastructure (bike lanes, multi-use trails and protected cycle tracks) is pretty good. But it's a different story if you have to go north. Improving north/south routes for biking is what cycling advocates in Ward 15 will be pushing for.
Better physical and mental health
With commutes of about 10 kilometres each way, both men credit their daily rides with keeping fit. A year-round commuter like Phil can clock in more than 5,000 km a year. As Russell points out, "Getting out in the fresh air benefits my state of mind, and the physical activity keeps my aging joints and muscles working."
Advice for would-be cycling commuters
Phil recommends that you first plan your route, try it out on the weekend, and, if it seems too far, gradually build up to the full distance by mixing in transit. Buses now feature bike racks on the front and there's bike parking at most subway stations.
Russell recommends pairing up with someone who rides the route and knows the hazards along the way. Both stress knowing the rules of the road, especially how to share the road and navigate intersections. And there are the basics: a bike in good working order with a bell and lights.
Weather is another challenge. Phil, who tries not to miss a day of cycling, suggests following the hourly forecast and being prepared for any eventuality. Winter riding means layering up by riding with wind resistant mitts, shoe covers and a balaclava, and protecting yourself adequately from the wind chill.
Fitness, freedom, fresh air and free – there's a lot to like about commuting by bike.
Holly Reid is a recreational road rider and cycling commuter. An advocate for safe cycling, she is a member of Cycle15, Cycle Toronto's advocacy group for Ward 15.