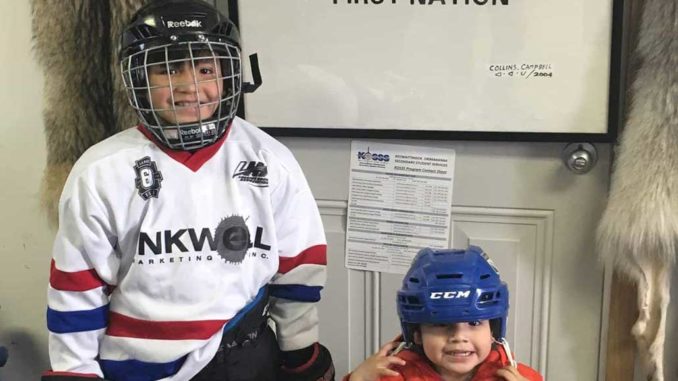 In my house, there are a few rooms (possibly one) that are completely devoid of clutter. But then, there is THE room where clutter truly reigns – the place where things we planned to someday sort have been left to languish unforgotten. The furnace room. It's basically the Bermuda Triangle of Casa Scandiffio.
The Leaside Flames 2005 AA hockey team hopes that you, too, have such a room, which holds, among other items, good-condition hockey gear no longer being used (rather than the selfie-toaster and strawberry stem remover we may, or may not, have on our shelves).
In October of this year, the team is headed to Manitoulin Island to participate in a community skate and an inter scrimmage game against the Wiky Hawks of the Wiikwemkoong First Nation. The trip was the brainchild of one of the Flames' moms, Tabatha Bull, a Leasider who is Anishinaabe and a member of Nipissing First Nation.
But playing hockey will be just one aspect of their trip.
On Sunday August 25th, from 10 a.m. until 5 p.m., the team will be hosting a ball hockey tournament in the parking lot of The Local at 180 Laird Drive. The team will be collecting hockey equipment in new or reasonably used condition (no holes, tears, mould, etc.,), hockey bags (which are perfect for delivery), as well as sticks. (Socks and jerseys are not accepted). The equipment will be donated to the Wiikwemikoong First Nation, and any extra equipment will be provided to other First Nation communities in Manitoulin.
Want to register to play in the tournament? Youth from 11 to 16 are welcome (and encouraged) to join in. Contact Jill Briggs () to get in on the action.
Don't want to play ball hockey but would like to be part of the event? The Local has generously donated food for a barbecue, while Steam Whistle is kindly providing beer. Cloud Nine AV and Patrick Rocca are sponsors for the event, and a raffle will be held.
Proceeds from the event will help to cover the costs of a team bus (which will also serve as a vehicle to transport the equipment), pay for the ice rental in Manitoulin, and provide laces and helmet screws to make sure all gear is usable. Any additional money received will be donated for upgrades to the Wiikwemkoong First Nation arena (https://wiikwemkoong.ca). The team will also happily accept cash donations on the day of the event.
According to Bull, the trip is a valuable way for the "boys to learn about volunteering, the feeling of giving, and to understand that not all children are as lucky as they are. It's important to educate both the families and boys on the culture and history of First Nations in Canada – this is a key part of reconciliation in the country. And of course, it's always great to make new friends."
According to head coach Rob Stanley, the team is "really looking forward to this trip! We hope to collect as much equipment as we can to contribute to the Indigenous community on Manitoulin."
If you have any questions about the event on August 25th or the trip to Manitoulin, or you'd like to make a donation, contact Tabatha Bull .