Bowling (the kind done on alleys, not lawns) was once a popular Leaside pastime. Following World War II, Leasiders hit the pins in significant numbers. The community had at least three bowling leagues (men's, ladies' and mixed), boasting teams with such colourful names as the Rykerts, Northleas, King Pins, Hopheads, and the In-N-Outers. They were served by three major bowling facilities:
-Thorncliffe Bowl in Thorncliffe Marketplace Plaza
-The Leaside Bowling Centre on Eglinton Ave. East, near Laird
-Bayview Bowl on the west (Toronto) side of Bayview Ave., between Davisville and Millwood.
Bayview Bowl and the Leaside Bowling Centre opened for business in the late 1940s; Thorncliffe Bowl started operating in the early 1960s.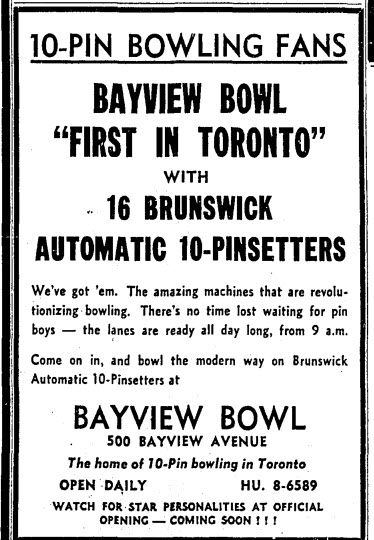 Bayview Bowl
Termed by the Globe and Mail as "Canada's newest and most modern pin-palace," Bayview Bowl offered customers both five- and 10-pin bowling on its 36 alleys. It later added a snack bar and pro shop.
The facility opened to much fanfare on Nov. 5, 1948 – with the Toronto Star and the Globe each covering the story in detail. As part of the opening, U.S. champion Ned Day was flown in from Chicago specifically to conduct an exhibition match to familiarize customers with 10-pin bowling, which was still a novelty in Canada. Over the years, the bowling alley would regularly host exhibits and clinics in both types of bowling to help customers improve their games.
Heyday
Initially Bayview Bowl was managed and operated by Leaside resident Walter Fisher, who lived at 839 Bayview Ave. Then in 1956, 27-year-old Charlie Weeks Jr. of Etobicoke became the owner. Weeks was an innovative and effective manager as well as a committed corporate citizen.
Under his ownership, Bayview Bowl became one of Toronto's leading 10-pin facilities, attracting hundreds of bowlers from around the city – including numerous Leasiders such as Canadian football great Joe "King" Krol and Arthur Donahue, editor of the Leaside Advertiser.
In addition, Weeks made Leaside Bowl a leading contributor to the Toronto Star's annual Sportsmen's Corner/Santa Claus fund. Soon after taking ownership in 1956, he rented out for one day all 36 alleys at $20 each, raising over $800 for the charity. Bayview Bowl continued as a major contributor to the fund for many years thereafter.
In 1959, Bayview Bowl invested $150,000 to become one of Toronto's first establishments to install automatic pin-setting machines for 10-pin bowling. This was a huge step forward for the sport, and Weeks made the most if it – offering door prizes, exhibition matches, free bowling lessons and free refreshments to attract customers. Previously, pin boys had set pins for bowlers – at 2.5 cents per game. Now, they were a thing of the past. Attendance – and business – swelled as bowlers welcomed the increased speed and efficiency that automation provided.
Decline and fall
The late 1950s marked the highpoint of bowling's popularity in Toronto, with over 100 alleys in operation, according to the Toronto Star (Sept. 10, 1966). But as the 1960s progressed, oversupply, inflation and declining demand took their toll – reducing that number by 40 per cent. This included Bayview Bowl. In the summer of 1966, Charlie Weeks announced he was closing the facility. By fall, half its alleys had been removed.
Then, early on New Year's Day morning 1967, disaster struck when a fire gutted the Bayview Ave. building where the bowling alley was located. According to the Globe and Mail, the flames were visible for 10 blocks and did nearly $40,000 worth of damage.
Eventually, a new building was constructed on the old bowling site. It housed a Dominion grocery store, then a Mr. Grocer, and currently Valu-mart.
Bayview Bowl may be gone, but it's left its mark. In 2020, someone posting on the Leaside Heritage Facebook page asked if anyone remembered the facility. The post generated more than 50 responses. Charlie Weeks would be bowled over.