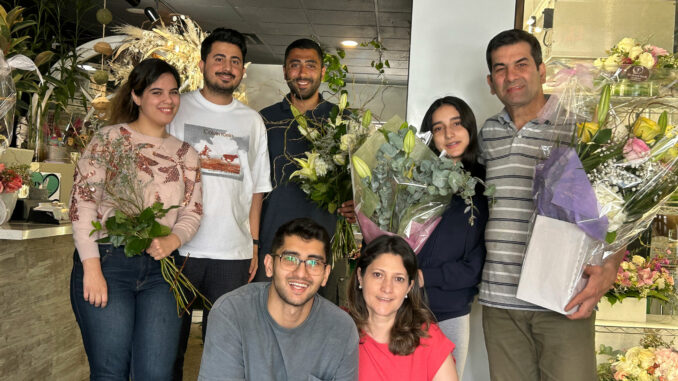 The Flower Patch at 1592 Bayview Ave. opened officially on April 17, 2019, but this elegant flower and plant store started, in fact, many years ago and many countries away.
Reza Shahali's father moved from a small city in Iran to the capital, Tehran, as a teenager. He started working in gardens but moved up to opening one of the first flower shops in the city, while continuing to grow flowers as well. Reza started working for his father as a teen, but by 25, he was running the store.
As the years passed, Reza married Bita and had two children, for whom their dreams involved moving from Iran. Other relatives had already chosen Canada, so they decided to join them. Their first foray here, in 2011, lasted just a year. Then, in 2014, their son Remi returned to finish high school in Ontario and opted to pursue a degree in kinesiology and health sciences from York University. That degree wasn't quite the right fit for Remi, so he is now enrolled in a joint co-op program with the University of Toronto and the Michener Institute in medical radiation sciences with the goal of becoming a radiographer.
And what of the flower shop? Their Tehran business was called Orchid, but that name wasn't available in Toronto, so they chose The Flower Patch. Reza scouted neighbourhoods throughout the GTA looking for just the right location. Bayview won out for its neighbourhood feel, numerous individually and family-owned businesses, and the sense of shared values in Leaside and Davisville Village. Reza says he made the right decision as the family managed to survive the pandemic years.
The shop makes a point of designing individual bouquets or arrangements, among them the vibrant floral colours enjoyed by their customers in Tehran, but also the softer hues that many Canadians choose. Many arrangements are a unique blend of the two.
Bita works in the shop a few days a week, but also enjoys visiting the other stores on the Bayview strip. Remi pitches in when his school schedule allows. Reza, or Ray, is in the store most days.
For the time being, this family business is thriving under the stewardship of the second generation. While it might not be an obvious fit for a budding radiographer, Remi is determined that he too will remain in the family business well into the future.