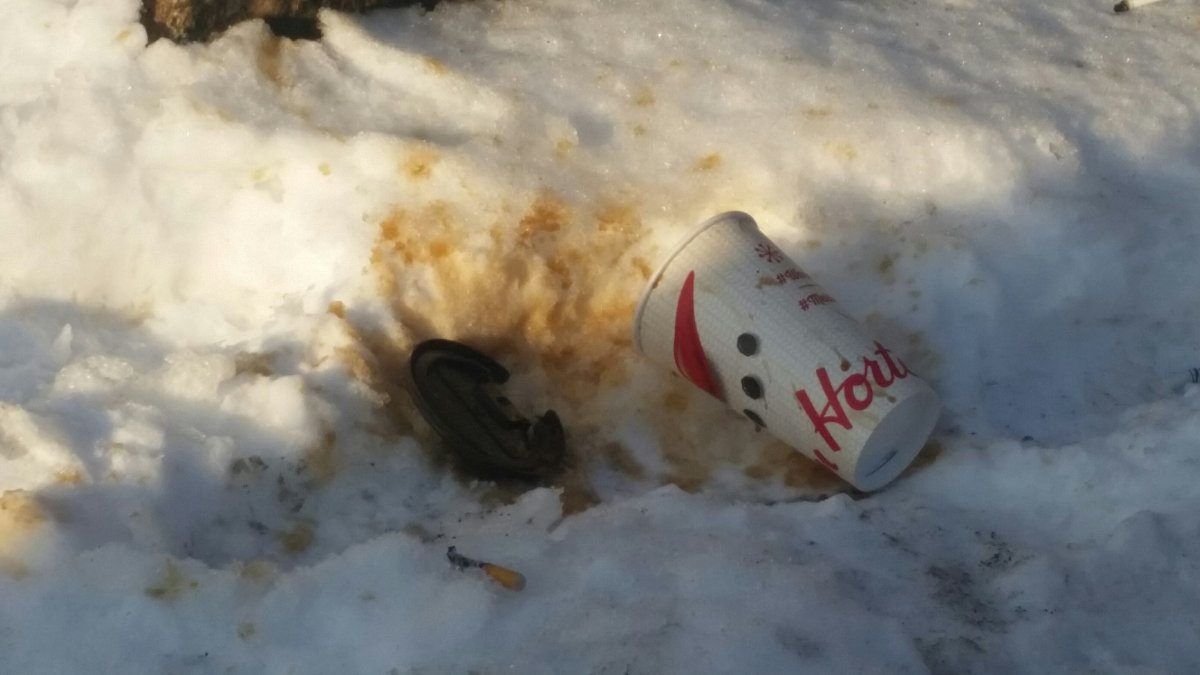 Out for my morning litter walk I came across several discarded Tim Hortons disposable coffee cups.
Tim Hortons boasts a strong presence in Leaside, where there are five TH locations: three freestanding, one inside an Esso station, and one inside the Holland Bloorview Centre. We love having Tims in the community. The discarded coffee cups? Not so much!
The only positive thing I can say is that the seasonal graphics made this litter look cheery. It got me thinking. What would the famous number 7 Toronto Maple Leaf, Tim Horton, who died in a tragic car accident in 1973, think about the mountains of litter the doughnut shops he founded create every year?
My husband's brother Bill Harris played with Tim. In his book "The Glory Years," he tells the story of the last couple of years that he and Tim were teammates when they started dropping into some of the fast food outlets in Chicago and New York for a coffee after church. "Tim would make a sketch of the floor plan showing the kitchen, tables, serving area and cash register and he would estimate seating capacity. In 1964 he was thinking in terms of retirement, and he was thinking about opening a fast food place. After two unsuccessful attempts at operating an independent hamburger outlet in Scarborough, he decided to try doughnuts. The rest is history."
Today Tim Hortons is known not only for its doughnuts but also its coffee – the famous double-double. Less appealing, though, is the disposable coffee cup, often dumped unceremoniously on the sidewalk.
An article on bonappetit.com chronicles the history of the disposable coffee cup, which began at the beginning of the 20th century when Boston lawyer and inventor Lawrence Luellen invented a water cup that would be a healthier option than the communal cup popular at the time.
"In 1907, he invented a paper cup — almost more of a paper bag at that point — that didn't have to be shared, and that could be thrown away after use. He called it the Health Kup, but changed the name five years later to that of a popular line of toys, Dixie Dolls. And in 1964 on Long Island, N.Y., convenience chain 7-Eleven became the first chain to offer fresh coffee in to-go cups."
Since then, as we all know, the paper cup, especially at coffee shops, has become ubiquitous…so ubiquitous it is now one of the biggest litter offenders on our streets. Good corporate citizens are not unaware of this situation.
Here is what Tim Hortons says on its website. "At Tim Hortons, we are aware of the environmental impacts of our packaging and waste materials. We are attempting to deal with the litter issue in a variety of ways":
We have anti-litter messages on all of our packaging items, including a 'Do Not Litter' message on all of our take-out cups. Sadly, many people do not pay attention to these messages, but we continue to work with other members of our industry to tackle the litter problem in a meaningful and effective way.
To ensure a clean community many Tim Hortons restaurants sponsor local cleanup events and activities in their communities.
All Tim Hortons restaurants sell reusable Tim Mugs. And while a Tim Mug may not be a practical solution for all guests it does provide a good alternative.
So the next time you're tempted to ditch your Tims cup on the sidewalk, look up, give thanks to the real Tim Horton for a great cup ofcoffee, chant 'Go Leafs Go', and honour his memory by not littering. Maybe he'll smile down on Leaside and bring the Stanley Cup back home!