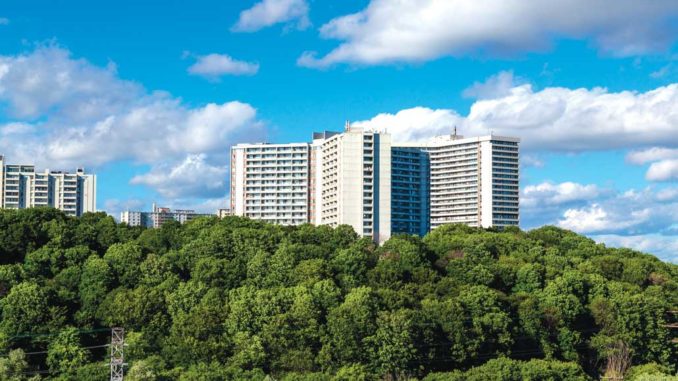 On a rainy, late October day, Thorncliffe Park's grand Overlea Boulevard was showing off its unique, four-season beauty compared to Toronto's typically dreary and grey major arterial roads.
It brightened up everyone's commute with crisp, vibrant, and brilliant shades of yellow, orange, and red.
Ken Fralick, chairman of a local tenants' association, sees the trees as the defining image of his community that also benefit the local environment by absorbing the pollution of the many cars that drive through it. "They serve a positive contribution to our neighbourhood," he says.
Overlea Boulevard, much like the densely-populated, midtown Toronto community that it serves, is relatively unknown to most passersby.
Running two kilometres between Millwood Road and Don Mills Road, Overlea is a lynchpin of Toronto's transportation system, connecting the inner suburbs of Thorncliffe Park, Leaside, East York, Flemingdon Park, and Don Mills.
For Douglas Harwood, a Flemingdon Park resident, commuting along Overlea is a quick break of nature in an increasingly urban city.
The busy street hosts five TTC bus routes, connecting to two subway lines, and is the only detour for motorists avoiding Eglinton Crosstown construction between Laird Drive and Don Mills Road.
"Travel any downtown street and you are treated to endless mountains of stone and glass. What few trees we do have here strive to remind local residents that nature exists all around them and reinforces the 'city in a park' moniker that Toronto once gave itself," says Harwood.
Overlea's canopy is the green ribbon connecting neighbours to recreational trails at the Thorncliffe Park Drive entrance to E.T. Seton Park, Leaside Park's sports facilities, and the Burgess Playground, scheduled for renovation in 2020.
Safeera Mulla, who grew up in Thorncliffe Park and is raising her family here, recognizes that the trees make her neighbourhood more welcoming and homey feeling, and can see that the city and private businesses recognize this too.
"Trees were replanted on Overlea by Costco after they completed construction," she says.
More construction is on the way. Thorncliffe Park, also known as "Canada's Arrival City," will soon see Overlea's trees replaced by the elevated trains of the Ontario Line.
For Lynn McGregor, today's street strikes a perfect balance with city living and nature.
"When I purchased my home on Overlea, some of the most important features were the trees and the adjacent ravine, full of wildlife such as falcons, wild rabbits, and chipmunks. We are close to the financial core and to the Don Valley Parkway."
Overlea's fall colours are now gone, but its dignity will persist as more garden city movement than Robert Moses throughway across the snowy, winter days that lie ahead, and beyond.
"So often," as Thorncliffe Park resident Judith Scolnik notes, "we take our trees for granted, but it's always such a treat when they start to wake up and blossom in the spring months that I find myself easing up the pressure on the gas pedal on the way home from work."
This article was contributed by Jason Ash.