Mining Laird Station
Mining Laird Station? Yes, Laird Station is being constructed using a mining method known as Sequential Excavation Method (SEM), one of only three stations employing SEM. The other 12 underground stations, including Leaside Station, are being constructed using the "cut and cover" method. SEM involves two stages: the first is support of excavation (shoring), with the installation of steel piles, and the second involves excavation of manageable segments in a planned sequence. The station will be constructed within the mined area. The Laird Station is a one of the longest, approximately 500 metres in length to be mined, in order to accommodate special track to store a Light Rail Vehicle (LRV) between the tracks, or for a LRV to change direction in the event of service disruption.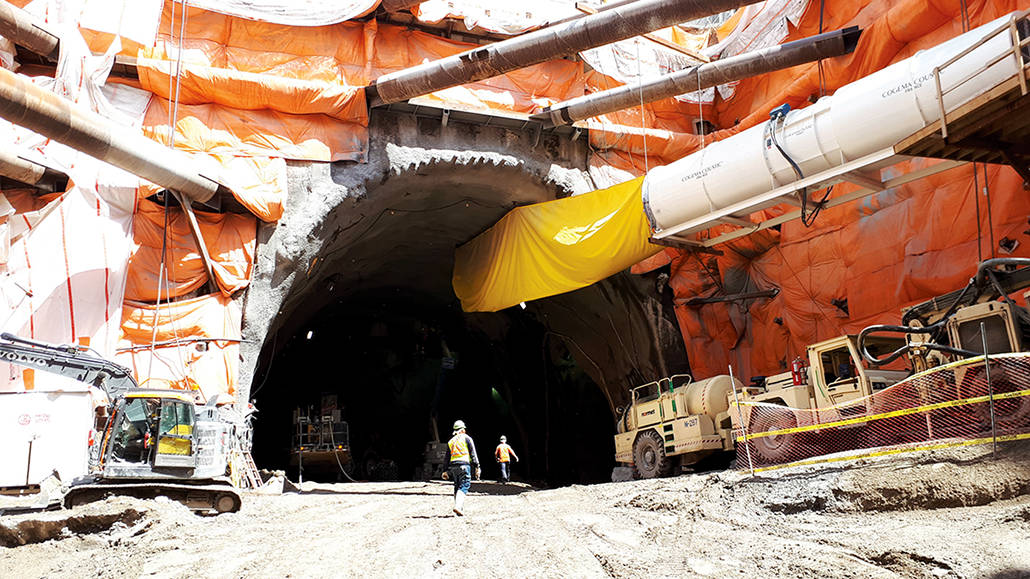 Recently, members of the Leaside/Laird Station Community Liaison Committee were given the opportunity for a walk-through of the Laird Station mining operations. The July 27 excursion took us down a flight of scaffold stairs to the large pit excavation at the site of the main station entrance (southwest corner of Laird and Eglinton), through the station area being mined, and along the tunnel connecting to the secondary entrance (east of Laird on Eglinton) and back up scaffold stairs to the surface. Whether standing at the bottom of the pit and looking up, or entering the cavernous mine, one is awed by the huge scale of the project. Massive, no other word for it.
The project is proceeding 24 hours a day seven days a week for a late 2021 completion. Let's hope that this time around, a change of provincial government does not result in cancellation of the Eglinton rapid transit project!