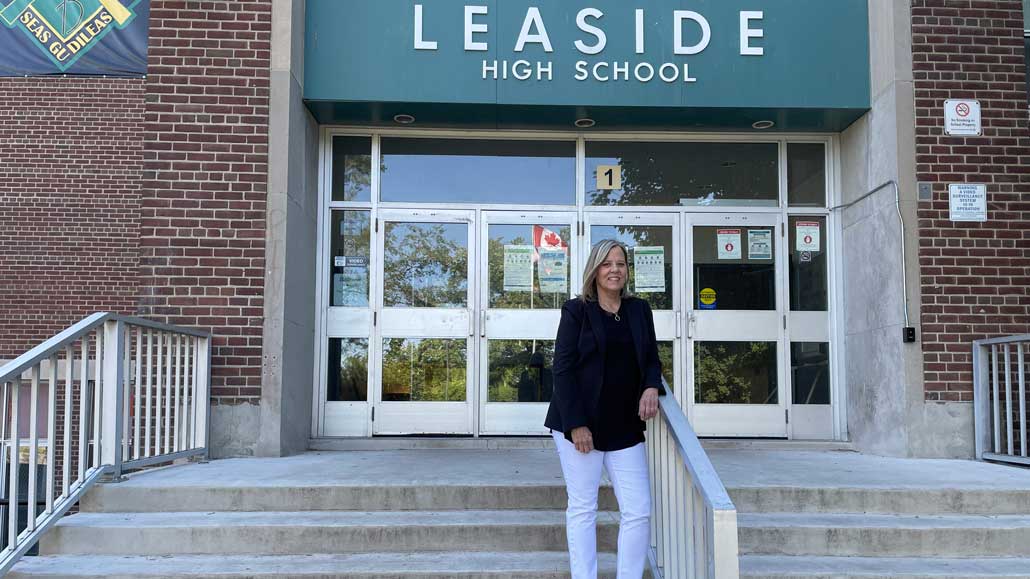 One of the most versatile and involved teachers to grace the halls of Leaside High School is retiring after 37 years. Mary Morrison was hired in 1985 and has taught girls' physical education, science and mathematics over her career, coached a variety of teams, and been an integral part of many clubs, committees and special events.
Mary grew up in Montreal and had her first teaching job there after obtaining Bachelor's degrees in Arts, Physical Education and Education at Queen's University. While she started out in phys. ed., Mary gradually moved on to science and math, teaching only math in the last 12 years. She counts Phys. Ed. Head Wayne Wessell, Math Head Dave Stickney and Principal Tony Tumminieri as her early mentors.
Mary's science colleague, Nadia Moledina, has always been impressed by her "passion for teaching, strong work ethic, mentoring of new teachers, organizational skills and desire to help students to achieve to their highest potential" by providing extra help in the morning and at lunch.
Students both past and present have high praise for Mary's excellent teaching skills and her talent for fostering a love of math and science. Graduating students Trinity Ung and Arvin Ashouri commented that she "creates a balance between conveying the curriculum and maintaining the well-being of her students."
Mary also made her mark outside the classroom, coaching a variety of sports. Her most recent team accomplishments were in field hockey, winning a silver medal in 2018 and a division championship in 2019.
In addition, she took part in several committees over the years such as Staffing, Numeracy, Scholarship and Commencement. When she was the advisor to the Environment Club, the group introduced the blue bin recycling program and designed and planted the native plant garden in the front circle.
But perhaps her most significant contribution to extracurricular activities was as the organizer of the very successful charity fundraiser fashion shows from 2004 to 2016, which raised over $40,000 for causes such as the Humane Society, One Child, Pancreatic Cancer Research and Sleeping Children Around the World. As Science Head Helen Panayiotou said, "No matter what extracurricular Mary took on, she always gave 100% and her enthusiasm was contagious."
Mary says that one of her biggest recent challenges has been "dealing with the shifts from virtual to hybrid to in-person learning during the pandemic and the effects on the students' well-being."
But she takes pride in "inspiring students to become more self-directed and seeing them develop into peer leaders and successful university students."
Principal Barbara Nixon says she has "the utmost respect for Mary as a life-long learner" who mastered new teaching techniques, even in her final year."
Working under eight principals, Mary experienced many changes in terms of curriculum, board initiatives, student demographics and digital platforms. But many aspects of the school have remained consistent, she said, including "the tradition of excellence, the strong collaborative staff, extracurriculars and the positive parental and community support."
What's next for this exemplary teacher?
For now, Mary plans to spend some time in Collingwood and focus on her fitness regime. She will be missed!