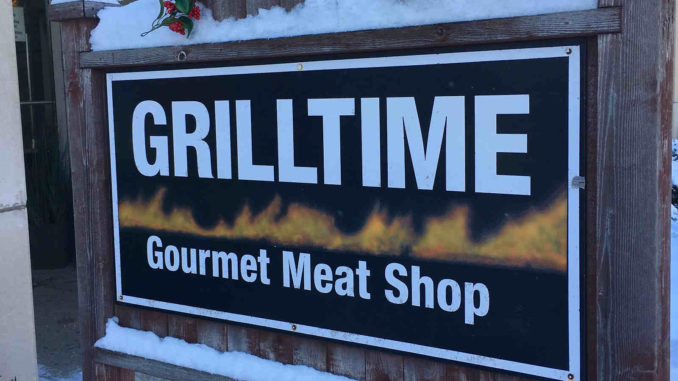 Since the holidays are just around the corner, it's time to start thinking about what you will feed the loved ones around your table this year. If you're anything like me, you'll need all the help you can get. Luckily, we have amazing retailers in Leaside who can help you make holidays easy, delicious and stress free. Who uses the words "stress free" and holidays in the same sentence? Grilltime, White House Meats and Today's Menu – that's who. Here you will find a handy guide to three of the most important components of your holiday dinner – turkey, stuffing, and gravy (no whisking required) (or a complete vegetarian option) – sure to please even your fussiest family and friends while making your holiday dinner a memorable one, from some of Leaside's independent food purveyors.
WHITEHOUSE MEATS
The main event:
Fresh turkeys from Dashwood and St. Ann's, ON $4.49/lb.
Four varieties of stuffing (heat and serve) $4.99/lb.
• traditional
• sage & celery
• cranberry & cashew
• bacon herb provençal
Turkey gravy – 500 ml $4.50 or 1 litre $9.00
Stanley from White House suggests ordering one pound of turkey per person, or one and a half if you want leftovers. And who doesn't want leftovers?
You might also consider:
As an alternative to turkey, White House
Meats offers fresh capons (8-10 lbs.) for
smaller groups, Muscovy duck or a traditional Christmas goose.
For Christmas Eve:
Consider popular choices like prime rib or beef tenderloin.
TODAY's MENU
If you're travelling this holiday season to a chalet or cottage, Today's Menu has the perfect festive package for you. Frozen, air chilled and pre-cooked Ontario turkey from The Butcher Shop (75 per cent white meat and 25 per cent dark), plus soup, dessert and three side dishes feed up to four people. A cooking guide for is included with each package.
The main event:
FESTIVE TURKEY DINNER – $145.00
Roasted turkey with cranberry sauce
Turkey gravy
Rustic apple herbed stuffing + roasted butternut squash soup, three sides and apple crumble for dessert.
Turkey ($34.95) and all sides are also available à la carte.
You might also consider:
FESTIVE VEGETARIAN DINNER – $111.00
Cauliflower curry soup
Rustic apple herbed stuffing
Whole grain squash risotto
Caulflower gratin
Sweet potato mash
Home baked apple crumble
Before/after the holidays: 
Today's Menu has recently introduced dinner packages to make entertaining before and after the holidays easier than ever. The "Impress Your Guest" packages include: appetizer, soup, main course (lamb, chicken or beef) side dishes and dessert. Packages for four start at $104.00.
GRILLTIME
The main event:
Traditional fresh turkey from Hayter's Farms, ON 13-25 lbs. – $4.50/lb.
Sun-dried cranberry & sage stuffing (heat and serve) 2lbs. – $14.95
Turkey gravy (24 oz.) – $10.95
You might also consider:
Stuffed skin-on turkey breast for smaller groups or ham from the Honey Glazed Ham Company. Grilltime also offers ready to serve mashed potatoes with roasted garlic, roasted root vegetables with fresh thyme garlic, and honey and fresh cranberry sauce to complete your meal.
After the holidays:
Once the turkey coma has let up, let the crew at Grilltime prepare you some of their bacon-wrapped tenderloin or perhaps a few racks of their fall-off-the bone ribs. If cooking isn't your thing, Grilltime has you covered, and they won't tell your guests that you're not the maestro ofthe meal!