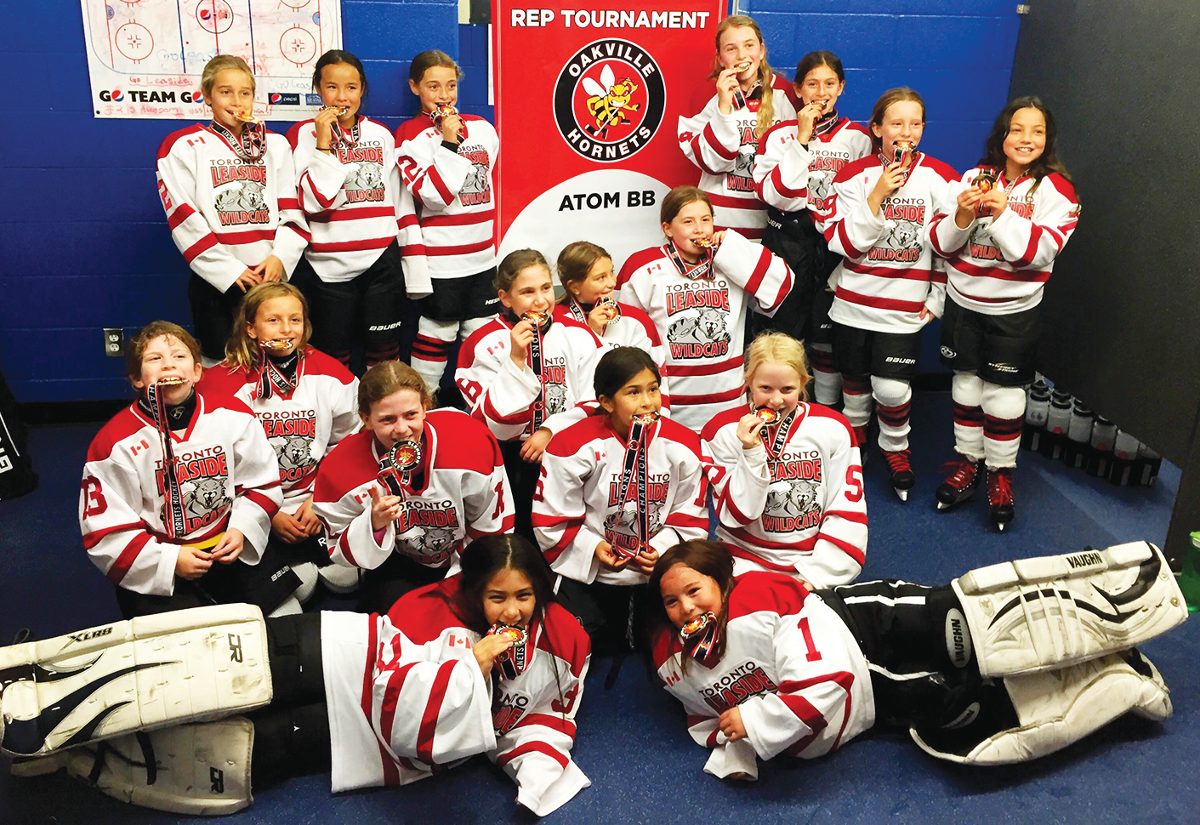 While this might not be the official motto of the Toronto Leaside Girls Hockey Association (TLGHA), it's an objective the league aspires to meet in all aspects of their organization.
With more than 1,600 girls playing hockey at the learn-to-play, house league, and competitive levels, the Leaside Wildcats' mission is two-fold. The league focuses on both growing the love of the sport, as well as empowering girls through female leadership mentors.
TLGHA's president Jennifer Smith says that while registration in girls' hockey in Ontario continues to grow, the Wildcats program has seen an annual growth far higher than the provincial rates. The growth, she feels, is due in part to the league's attention to providing unique opportunities and strong role models.
Girls have the opportunity to play from the age of 3 in Learn to Play programs, and from age 7 through Grade 12 in House League and competitive teams. There are also "seniors" leagues (as in, anyone over 18). In the past two years, the league has also offered programs for girls aged 7 to 14 with no previous exposure to hockey so they can move on to play with House League teams. That way, as Smith points out, "no one gets left behind."
Wildcats also have the opportunity to play with, and against, international players. With the growth of female hockey worldwide, Canada has become a destination for individuals and teams wanting to improve their skills. For several years, the Wildcats have hosted players from New Zealand who have spent part of the season playing with Leaside teams at the competitive level. The Wildcats have also, on four occasions, hosted the Women's National Team of China. This past year, a team of 20 Wildcats were invited to Spain to play against the Spanish National Team, who wanted to face solid competition before competing in the IIHF Division II Championships. And now that New Zealand has established such close ties with the league, they will be sending a team to train with the Wildcats and play in their annual tournament in March.
Thirteen-year-old Olivia Walsh, who has played with the Wildcats for seven years, is excited to be able to participate in the international arena. While she has played various sports over the years, hockey is by far her favourite and if all works out she'd love to play beyond high school. She has been inspired over the years by the fact that so many of the coaches, trainers, instructors, scorekeepers, and referees have been female. In fact, when she was 9, Olivia's coaching team included three female coaches and one male trainer. She has also been mentored by young female instructors from teams such as the Toronto Furies of the CWHL.
While the Ontario Women's Hockey Association mandates that at least one leader on each team's bench be female, Smith says that the Wildcats follow the credo: "It is their intense responsibility to develop female leaders."
It is a goal that the league has met, and far exceeded, with multiple enthusiastic and devoted female role models who work and volunteer as coaches, mentors, referees, scorekeepers, and league directors. The league also fosters the growth of female role models by offering their players as young as 12 the opportunity to learn and to work as scorekeepers. Players as young as 14 can also participate in clinics to certify as referees.
It's this kind of inspiration that has seen a large number of Wildcats go on to play in both Canadian (CIS) and US (NCAA) university hockey.
If they can't see, they can't be. And Wildcats are certainly witness to strong female role models who inspire them both to love the game and continue as participants off the ice as role models themselves.