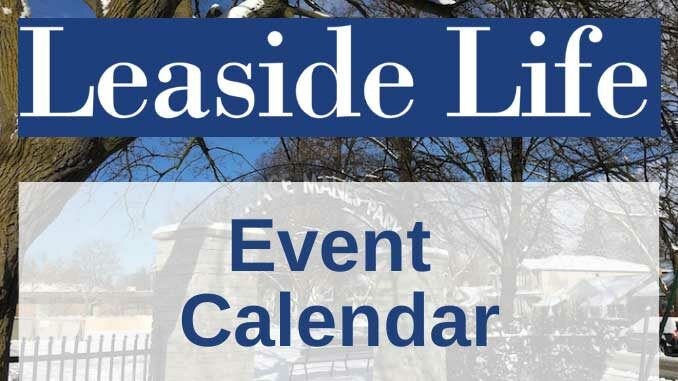 Leaside Branch Public Library
165 McRae Drive, 416-396-3835
Leaside Writers' Group
1st and 3rd Wednesday of each month, 10-11:30 a.m. Jan. 4 & 18. Join a creative and safe environment for writers of all levels. Bring your written work with you and volunteer to share your work with your peers if so desired. Take part in exercises to keep your mind and pencil sharp. Register at the Leaside branch or by call 416-396-3835.
Needlework (knitting & crocheting at the library)
Thursdays, 10:00-11:30 a.m. Bring your own knitting or crocheting project, or start something new while learning about different library programs, services and resources. All are welcome.
Leaside's Non-Fiction, Biographies and Memoirs Book Club
Wednesday, January 25 – 10-11 a.m. Pick up January's book at the Leaside branch. We'll be reading Educated, a memoir by American author Tara Westover in which she recounts overcoming her survivalist Mormon family in order to go to college, and emphasizes the importance of education in enlarging her world. Email if you wish to receive email reminders and join the club!
Trinity Grace Church
826 Eglinton Ave. East, Toronto, ON M4G 2L1
416-669-8788 • trinitygrace.ca
Hymns in Harmony
Choral Workshop: Fri., Jan. 6th, 7 p.m.
Faith and Works Seminar
Sat., Jan. 21st, 9 a.m.
CFUW: LEASIDE – EAST YORK
Presents: Unsavory Podcast: Misleading Food Labelling. Speakers: Rebecca Harris, Nutritionist/Ex-Criminologist and Sarah Muncaster, Nutrition Educator, Food and Recipe Writer
Jan. 19, 7:30 p.m. on ZOOM. To request link, call 416-347-6193.
Leaside Garden Society
The Garden Society will continue the Speaker Series with Zoom meetings on Jan. 12, 2023.
Our special guest is Charlie Dobbin. The topic is "Gardening as we age." The meeting will commence at 7 p.m. The Society always welcomes guests and new members to join the society for our meetings. Visit our website – www.leasidegardensociety.org – or email –
St. Cuthbert's, Leaside
1399 Bayview Ave. 416-485-0329
TAI CHI
Tuesdays 1:30-2:30 p.m. Donation $4. Starting for the new year on January 10.
BOOK DISCUSSION GROUP
3rd Thursday in the month – 1:30-3:30 p.m. starting January 19. Neil deGrasse Tyson – "Starry Messenger: Cosmic Perspectives on Civilization." All are welcome.