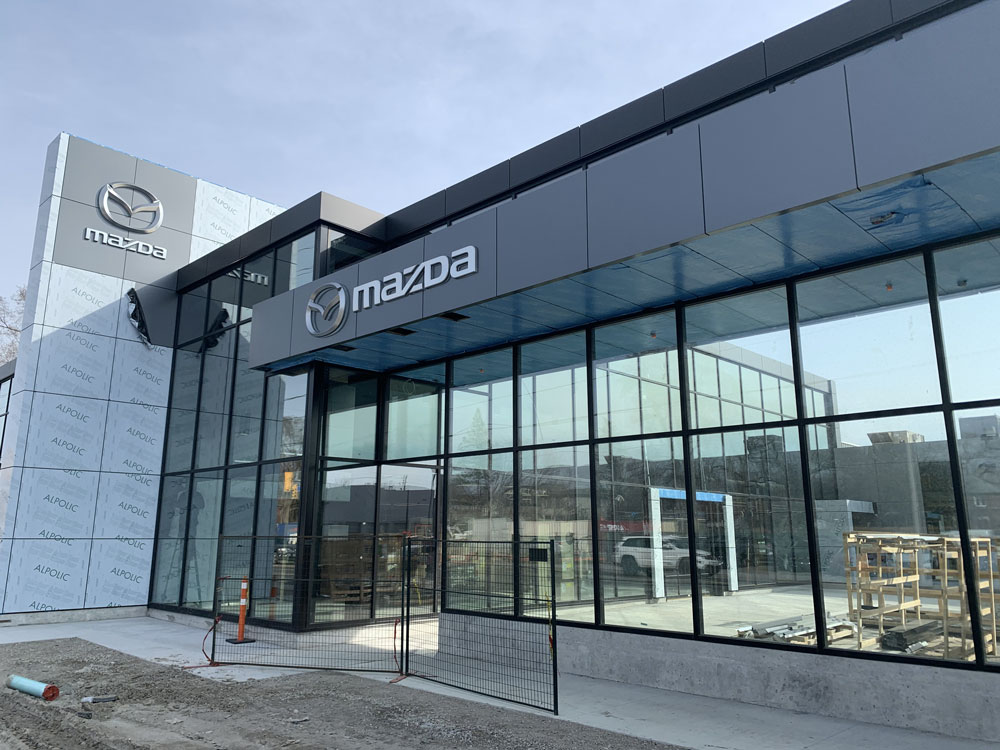 When Joey Kovac was a kid, he and his buddy Paul Kmet messed around in a car dealership lot on Laird Dr. in Leaside – a playground that most of their pals could only dream of. They were able to pull this off because their fathers owned the Gyro Mazda dealership and were also close friends. Not only did they have a wonderful time, they also learned the car business literally from the ground up.
Now they have followed in their fathers' footsteps and are the only second-generation Mazda dealership in Canada. And they are about to become much larger.
After 45 years operating on the west side of Laird, they are scheduled to move to new, ultramodern premises across the street in the spring. The new site will house not only the Mazda brand but also a new franchise for Hyundai as well.
The story began in 1971 when Gyro Motors was incorporated; in 1975, Gyro Motors became a Mazda dealer. Joe Kmet (Paul's father) and Joe Kovac (JP's father) were business partners and close friends. That friendship led to their families spending time together outside work.
"I would say that Paul and I are even closer than our fathers were; he is like a brother to me," says JP.
In 2000, the second-generation Paul and JP became the principals, along with a third partner, Jim Krigos.
Gyro is Mazda's oldest dealer in Toronto and is a multiple winner of the company's prestigious President Club and Dealer of Distinction Awards. In 2013, Paul and JP acquired the Hyundai franchise as well.
"At Mazda, we see ourselves as much more than a place for transactions, more than branded buildings to sell and service cars. Our retail partners are the frontline of the Mazda brand experience providing a clubhouse-like experience," says JP.
"We have purchased all new furniture and equipment for our new facility. Although Mazda is not a luxury brand, we are making a move to a premium experience. This means the level of finishing inside the facility will be equivalent or perhaps even exceed that level of quality one would see in luxury branded dealerships."
Gyro has also invested in the latest Hunter Alignment and Tread Depth Checkers. That means every vehicle that comes in for service will be photographed, alignment checked, and tread depth checked. This information will remain on file and be available to customers electronically.
"We also have invested in robotic tire changers and a Hunter Road Force Balancer. This is the latest equipment that all performance and high-end brands are required to have. Vehicles will be maintained and repaired at a much higher standard than any Mazda customer has experienced before."
COVID-19 fallout
As with many businesses in Leaside, the pandemic has affected operations.
"We have seen an overall decline in business throughout this challenging period," says JP. "It has been quite difficult to maintain good relationships with our clients with all the obstacles that exist in this current reality. Safety is our number one priority so we need to continually be vigilant."
That means letting customers go as far into the purchase process as possible before even entering the premises.
"For preowned, this means providing more information in the form of images and data. We have moved to a market value pricing process. We have specific software that looks at every vehicle for sale in the marketplace so we are pricing vehicles at transaction prices, eliminating the need for negotiation."
For new vehicles, Gyro features price tools, videos, pictures and links to various third-party articles and reviews. Service and parts departments are operating on a no-contact basis, but customers can wait while their vehicles are being serviced.
For Joey and Paul, Gyro has gone from playground to workplace. To date, they have sold more than 25,000 new Mazdas…and counting.