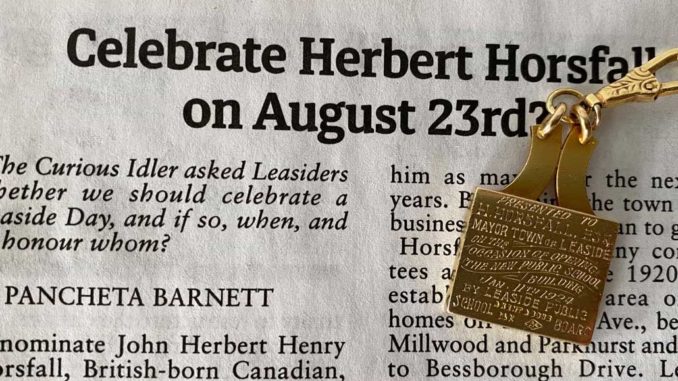 Hi There,
I wanted to thank you for the lovely article that Pancheta Barnett wrote in the latest Leaside Life (April 2021). Herbert Horsfall was my great grandfather. I have lived either in or near Leaside for the past 20 years, and it was so lovely to learn that you might celebrate a Leaside Day, and may even consider honouring Herbert Horsfall on that day. I would definitely cast my vote for that.
I have attached a few photos that you may find interesting. One photo has a few more details about him, taken from our family history book. (See the photo below). I have now placed a copy of your article alongside this page of our family book because the article does a much better job of describing his varied contributions to our amazing neighbourhood. Thank you for that.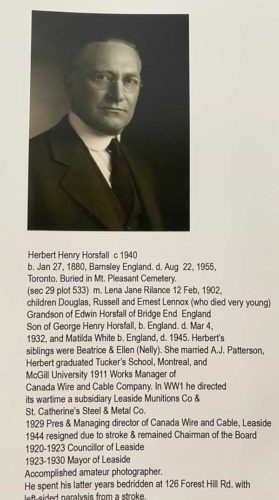 The second is a photo of the pendant that I often wear around my neck on a chain. (See photo below). It was passed down to me from my mother, Joan Horsfall Young.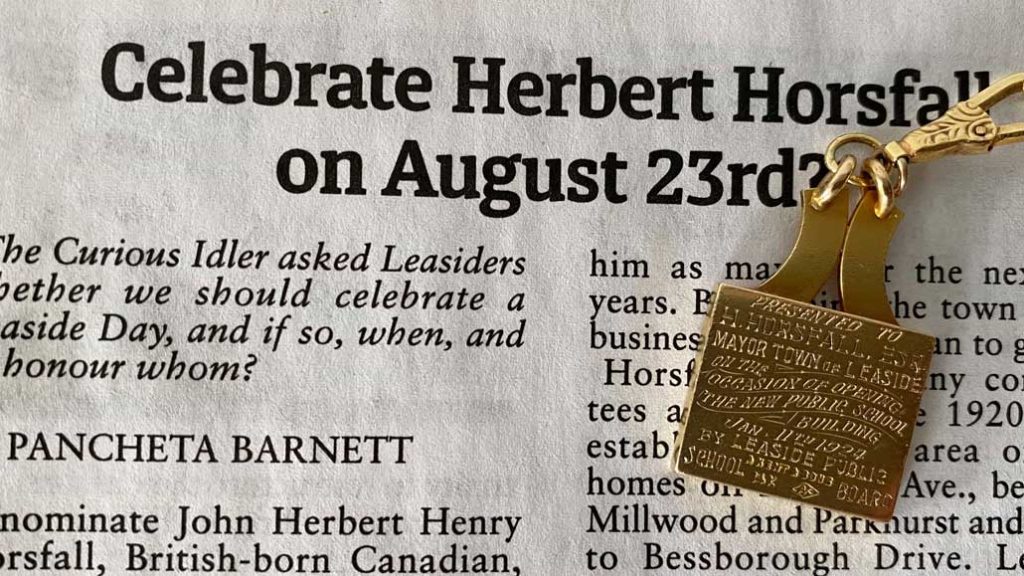 It is hard to read so I included a third photo which is a closeup. (See photo below).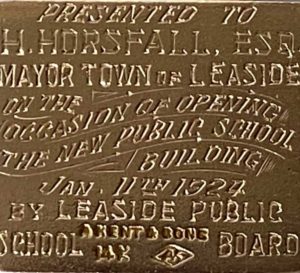 It reads:
"Presented to H. Horsfall, Esq.
Mayor Town of Leaside
On the occasion of opening the new public school building
Jan. 11th, 1924
By Leaside Public School Board"
I assume the school referred to here is Bessborough School?
While I never knew him, my family definitely referred to him as a "doer", as you did. He was also an amateur photographer, and I sometimes wonder if my profession as a photographer was "in my bones" because of him.
I loved your clear and detailed description of his many contributions to Leaside through Canada Wire and Cable, and his contribution as councillor and mayor. It takes a village of people like that to build for the future, and what a great village we now have.
Anyway, just wanted to thank you for considering him.
Cheers,
Storey Wilkins