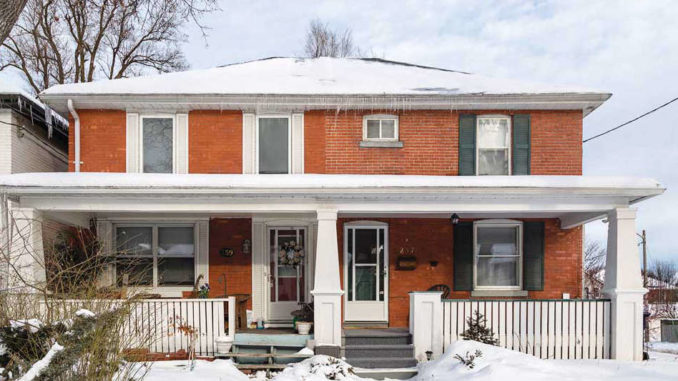 Did you know that 100 years ago Leaside was a complete live-work-play community?
In 1912, Emil Andrew Wallberg, president of Canada Wire and Cable Company, purchased approximately 16 acres intending to construct a factory and 100 employee residences. In 1914, one year after Leaside was incorporated as a town, ownership of the land was transferred to Canada Wire and Cable Company (CWCC) and the company began construction of the plant. However, soon after, with the outbreak of World War I, the incomplete plant was altered to permit the manufacture of shells by the Leaside Munitions Company, a subsidiary of CWCC. Because Leaside was at the time isolated from the existing city of Toronto, the company felt the need to build housing for its workers. In fact, 68 houses were built on the lands to the west of Laird, many of which exist today.
The CWCC-built houses are the subject of a set of portraits by noted architectural photographer Vik Pahwa. They will be featured in an exhibit entitled Hidden Amongst Us: Architectural Portraits of Leaside's Canada Wire and Cable Company Homes and presented by Leaside Matters, on May 11-13, 11 a.m. to 4 p.m. at ArteMbassy located at 28 Industrial Street, suite 219.
Connor Turnbull, co-chair, Leaside Matters, invites us to attend the free exhibit to "discover the 'big bang' of the Town of Leaside. Canada Wire and Cable Company was not only the first industry in Leaside, but also the first company to embrace landscape architect Frederick Gage Todd's idea of a 'model town' where industry and residential coexist to foster a thriving community. These houses are still amongst us. Come take a closer look at these wonderful buildings.
I feel this is also a wonderful follow-on to the Leaside 100 commemorative events of five years ago, in May 2013. And the surplus Leaside 100 funds are helping to pay for the new CWCC exhibit. The exhibit is free, but donations are welcome.