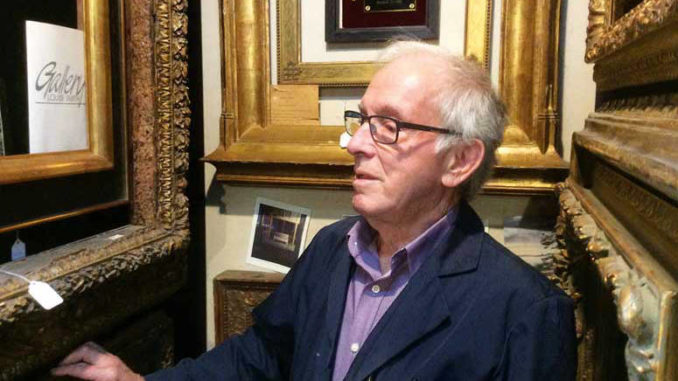 Emmett Maddix wasn't yet 17 when he arrived in Toronto in 1957, spoke only French (his family were Acadians from Prince Edward Island), and his only skills were those learned on his family's farm.
His first job was at a tool-and-die shop, where the night shift wage was $1 an hour, five cents more than for the day shift. So, Emmett worked nights, and got to learn a bit about Toronto during the day.
One day, he saw a sign "Help wanted – picture framer – no experience necessary." He discovered the pay was $1 an hour and decided this was a step up for him. The job was at the well-known Isaacs Gallery. Here he met artist William Kurelek, and they became friends. There is, in fact, a Kurelek painting called "The Dream of Emmett Maddix," with vignettes in it painted from discussions the two of them had, including how life was a rat race. Sure enough, in the centre of the painting, there is a circle, with tiny brown rats forming the circle.
By 1963, he felt ready go into business on his own. Following the example of stores like Birks and Eaton's, he called his store Emmett's. He moved to Leaside in 1981, when he bought frontage on Laird that was part of the original Canada Varnish property. The name outside says simply "Emmett's." You need to know to go inside to see on a business card that the full name is Emmett's Custom Framing Ltd.
"If you are looking for a $35 frame, we're not the place to go," he declares. "We do high quality work." In fact, his frames range from $200 to $40,000. Some are custom-made, while others, like the 16th century Italian frame, complete with (old) termite holes, he purchased on buying trips to New York. Emmett's framing clients include the AGO and many prominent, art-loving people in Toronto and elsewhere, but he also has local Leaside clients who appreciate his skills and good eye. His work philosophy is simple – "work hard and be honest." "My idea was to become the top in Canada." He is certainly among an elite in the framing world and was chosen to be the cover story for an American art business magazine with advice for new framers. He also regularly acts as an agent for people buying art at auctions.
At age 78, Emmett and his wife, Sally, have shortened the shop hours slightly, but aren't planning to retire yet. Neither of their children is interested in the business, so the plan is to continue while they enjoy being there.