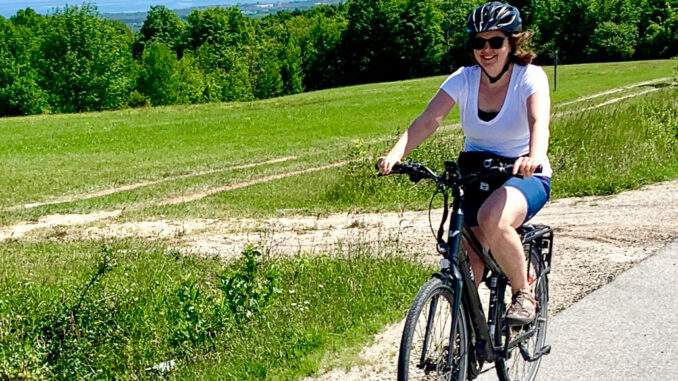 E-bikes are predicted to be the future of low-carbon mobility, but for locals Carmen Jones and Leo Johnston, they are the present, and they are all about the fun!
Just to be clear, we're talking about the pedal-assist e-bikes that are allowed in bike lanes and on trails in Toronto, not the mini-motorcycle variety. And more of them are popping up as people are discovering the fun factor that Carmen and Leo rave about.
Mastering the hills
As a year-round bike commuter and recreational mountain biker, conquering the Niagara Escarpment in Collingwood was what motivated Carmen Jones to give an e-bike a try. She rode a few at The Midtown E-Bike Fair in June and was immediately sold.
"I was looking for a car alternative when I was up in Collingwood for the weekend, and this seemed like the perfect answer. I can bike into town for groceries, ride over to Thornbury for dinner, get to the beach without being lined up for parking, and, because we stay near the top of the escarpment, I always have the power to get me home," she says.
Going for distance
Leo Johnston had always loved getting out on the trails with his mountain bike, but years of competitive sports had taken their toll, so when a former partner rented him an e-bike to try, he rekindled his love of trail riding. "I had so much fun that I extended the rental for the rest of the year," says Leo. "Contrary to what people think, it's great exercise, good for the environment and gets you out of the house."
As Leo explains, previously he might be out for an hour and a half on his mountain bike, but on his e-bike he can head out for four or five hours. On one recent excursion, he started in Omemee and rode the rail trail to Peterborough, ate lunch, explored the lift-locks and biked back – a 40 km journey. An avid birder, he values the quiet ride of an e-bike, allowing him to hear the species he's observing. And at 6'5", Leo appreciates the comfort of a customized fit.
"Try it and you'll like it"
Carmen and Leo are customers of Zygg, an e-bike subscription service that aims to offer affordable access to electric bikes. Purchasing an e-bike can be more expensive than conventional pedal bikes so renting is often the first step for people considering a permanent purchase. Depending on the package you choose, subscription fees at Zygg can be less than a monthly transit pass. And the bikes they rent are of good quality, valued around $3,000, and available with dual system lock, maintenance and repairs as well as insurance options for theft and damage.
Asked for their advice for anyone considering an e-bike, Carmen and Leo say to definitely give the e-option a try. "I don't understand why everyone wouldn't want to try one," says Carmen. "It is such a great experience and makes biking accessible for anyone."