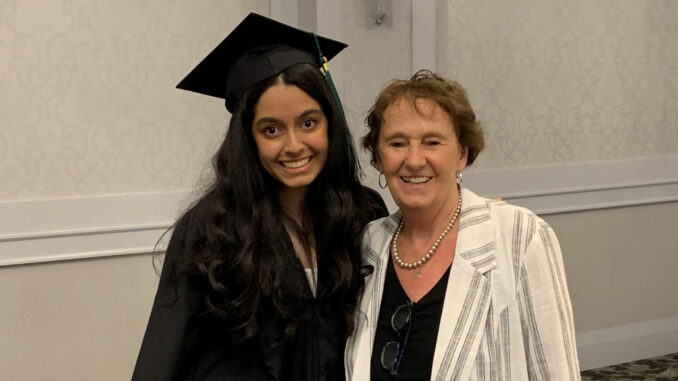 For the first time in three years, on June 28th, Leaside High School held an in-person commencement ceremony for the Class of 2022. The event was attended by the 236 graduating students, teachers, school administrative staff as well as friends and family members.
MP Rob Oliphant and MPP Stephanie Bowman were also in attendance to celebrate the special day. Oliphant challenged the graduating class to find one societal issue or situation that enrages them and then to go out into the world and make a difference on that issue, while Bowman reflected on her own path from small town New Brunswick to becoming the newly elected MPP for the riding.
Many scholarships, bursaries and awards were presented at the ceremony, and Leaside Life was proud to be a part of the event with the presentation of the inaugural Leaside Life Ruth & Harry Goldhar Journalism Award. The $1,000 award is presented annually to an outstanding LHS student who has demonstrated an interest in journalism and shown excellence in the written word. The award is named in honour of Ruth and Harry Goldhar, who for over 40 years were a driving force in creating and championing local news publications, including the Town Crier and more recently Leaside Life.
This year's recipient was Yousra Lakhani, a French immersion student graduating with a top six average of 98%, who is planning to attend McMaster University in the fall. Yousra was the editor-in-chief of the school newspaper, the Leaside Chronicle, a leader in the Science Club, and an active participant in several projects in support of student mental health.
Congratulations to Yousra and to all the graduating students!