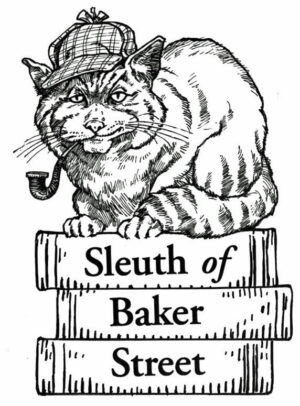 The curious case of the Sleuth of Baker Street
Marian Misters and J.D. Singh, the much-loved co-owners of Leaside's Sleuth of Baker Street, announced in their recent monthly newsletter, The Merchant of Menace, that after 40 years of business, they are going to retire. The store, at 907 Millwood, will remain open during the transition period, and there are still a lot of books to sell and a lot of goodbyes to make before the final closing. In 2021, Misters was presented with the prestigious Derrick Murdock Award, presented by The Crime Writers of Canada, for the significant contribution made to the development and support of crime writing in Canada. If you have never had the opportunity to visit, and before the final chapter is written, please do not miss the chance to visit one of Leaside's treasures before it is gone. Look for a full profile of Marian, J.D and the Sleuth in an upcoming issue of Leaside Life.
Calling all wannabe journos
Applications are still open to 2023 graduating students of Leaside High School for the Ruth & Harry Goldhar Journalism Award. In honour of the founders of Leaside Life, the $1,000 award is presented annually to an LHS student who intends to pursue a post-secondary degree in creative writing or journalism. A brief application and a writing sample will meet requirements for eligibility. For more information, email .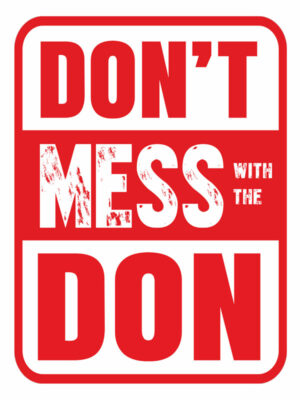 Garbage dumped, can spring be far behind?
As spring emerges from the grips of winter, so too does, well, a whole lot of trash. One does wonder how a stainless-steel sink ends up nestled up against a tree in the woods behind the Loblaws on Redway. Unless it has been dropped there by a passing plane, someone has made the conscious effort to remove a sink from their home, transport it to their vehicle, drive in the dark of night and then heave said sink into the woods. Bikes, plastic containers, tires, clothing, furniture, and yes, even the kitchen sink, find their way into our green spaces, but thanks to good work of the group Don't Mess with the Don, the battle against garbage is being waged. So far, the group has been instrumental in removing over 200,000 pounds of trash from the Don Valley. DMWTD is an all-volunteer, stewardship and advocacy group, now a registered charity, committed to protecting and enhancing the natural heritage of the Don Valley. The group hosts frequent clean-up events, and they are always looking for volunteers to lend a hand and a few hours. To help this spring, contact DMWTD though their website: dontmesswiththedon.ca.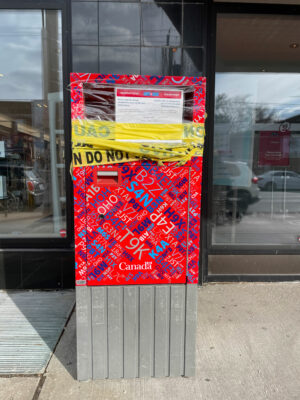 Don't mess with my mailbox!
What the heck is going on with Leaside's mailboxes? The Idler was out for a walk last week and was looking to mail a few Easter cards, only to find that both Canada Post mailboxes on Bayview were wrapped and taped shut. It has been this way for a while and seems to be happening across midtown, on Bloor, Yonge, Davenport, Mt. Pleasant, and Bayview. Responding to an inquiry by Toronto Star "Fix-It" contributor Jack Lakey, Canada Post stated that their Security and Investigations team are working with local law enforcement looking into numerous incidents of vandalism on street letterboxes. It does seem strange that the letter boxes have been sealed in plastic wrap for several weeks. Is this Canada Post trying to see if we need these boxes and then, like a few years ago, they disappear in the night. Let's hope not, as the Idler is still one of those folks who enjoy sending and receiving snail mail.