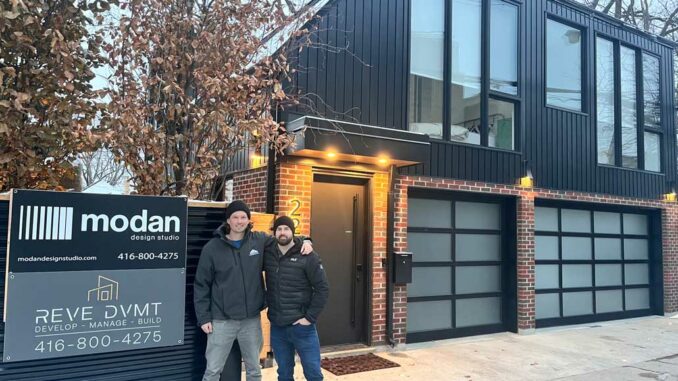 With the Ontario government's "More Homes Built Faster Act" (Bill 23) receiving Royal Assent on November 28, 2022, it seems like a good time to revisit the case for laneway homes and garden suites for interested and qualified residential homeowners in Leaside.
I first wrote about laneway homes in the September 2018 issue of Leaside Life ("Magical backyards: gardens or laneway suites?"). At the time, laneway housing was being permitted for the first time in the Toronto and East York districts, but not North York, making Leaside ineligible. Fast forward to the present and a LOT has changed.
To address the so-called "missing middle" by building more homes near protected major transit station areas such as Leaside and Laird, Bill 23 amends the Planning Act, creating a new threshold across the province for what is allowed to be built. The aim is to create sustainable communities built around transit, but it requires municipalities to update their zoning bylaws to meet certain density targets. Specifically, these new changes permit property owners to add up to three residential units "as of right" for land zoned for one home in residential areas without requiring a change to the zoning bylaw. The three units can be within the existing residential structure or take the form of a residence with an in-law, basement suite, garden suite, or laneway home.
Bill 23's impact
Living on a laneway myself and always on the lookout for additional income streams, I've had this opportunity on my radar for a while now. How prescient it was to get a hand-signed and delivered letter in my mailbox in September that read: "Ever thought of building a laneway house on your property for extra square footage or monthly income?… Come visit our newly built laneway home at 229 Manor Road East to see what all the fuss is about!"
Reader, I did. After all, I'm both a sucker and an admirer of those who go door-to-door, having come up through those same ranks myself! Here is what I learned:
First, that letter was signed by Mason, Max and Andrew, the founders of Modan Design Studio and REVE DVMT (that's "rev" as in your engine + an abbreviation for "Developments"). Modan focuses on design while REVE focuses on building and land development (www.revedvmt.com). The three friends, with complementary skillsets, who left their jobs at Fortune 500 companies to focus on helping homeowners maximize the value of their real estate holdings. Having invested in, built and managed several projects across the GTA, the team "sees potential in great neighbourhoods like Leaside." Andrew told me Bill 23 helps remove some of the red tape that hinders progress. "It allows ideas to come to fruition sooner… empowering property owners to realize their goals much faster."
Back in September 2018, the initial costs to build a laneway home in Leaside were estimated to be between $270,000 and $350,000 with a projected rental income between $1,400 and $2,000 per month. Since then, who could ever have imagined what we all have experienced over the past four years, let alone the impact on the numbers associated with the original business case? A call to local realtor Patrick Rocca confirmed the new reality. Rents in Leaside have doubled, with a typical two-bedroom apartment now renting for $3,000 to $3,500 per month. Construction costs (labour and materials) have also risen at a similar pace.
Looking purely through an economic lens, Andrew from REVE shared three methods Leaside homeowners can use to evaluate the attractiveness of their particular project. From the property value (ROI) perspective, his experience is that construction investments are viewed favourably by banks and refinancing can result in a higher property valuation (e.g., 1.5 times the value of the initial construction investment), which creates an attractive return.
Two-bedroom Leaside laneway home to rent for $3,500 per month?
From a cash flow perspective, a gross monthly cash inflow of $3,000 to $3,500 from rental income as cited by Patrick Rocca is not far off the confirmed rental income of $4,250 per month for REVE's 900 sq. ft., two-bedroom, one-bathroom unit I visited at 229 Manor Rd. East. From a capital rate of return perspective, Andrew advises that homeowners can do their own cap rate calculation for each specific project plan. In this method, analysts use a rate of 4.2% (which is Toronto's multifamily residential historical rate of return from Colliers) to determine a maximum project cost threshold. As an example, using a forecast annual net operating income of $30,000 ($3,000 per month rent less an allocation for the incremental increase in property tax and other expenses), your project would be a favourable investment if you could keep project construction costs below a maximum threshold of $714,428 ($30,000/4.2%).
Beyond a new source of cash flow and potentially increasing the resale value of your property, there are several additional benefits for homeowners that potentially include: (1) contributing to alleviating the rental housing crisis, especially for young families or professionals who might otherwise be priced out of the city, (2) providing an opportunity for downsizers or older children who do not want to leave a neighbourhood or live in a condo, (3) paving the way for multi-generational families where the children may take over the responsibility of the main home while the parents get to live next to their child's family, (4) helping get tired-looking laneways cleaned up while preserving the primary character of a neighbourhood, and (5) providing a new source of tax revenue for the city.
Andrew estimates that a typical project takes 18 months from design, securing permits, and completion of construction. At the time of writing, I am aware of only two projects of this nature in Leaside, one on Randolph and the other on Donegall. Whether or not a laneway home or garden suite makes sense for your property will be subject to some general and individual factors before eligibility for development can be determined. Since project complexities are case-specific, the best way to evaluate the nature of your specific opportunity is to reach out to experienced design and development firms such as Modan Design and REVE DVMT, which specialize in this type of build. I'm glad I did.
Do you think laneway homes and garden suite are an attractive investment for qualified Leaside homeowners? Do you know individuals and families who would prefer to move to Leaside if there were more housing options available? Will Bill 23 help solve the problem of the 'missing middle' in Toronto? Let us know at .