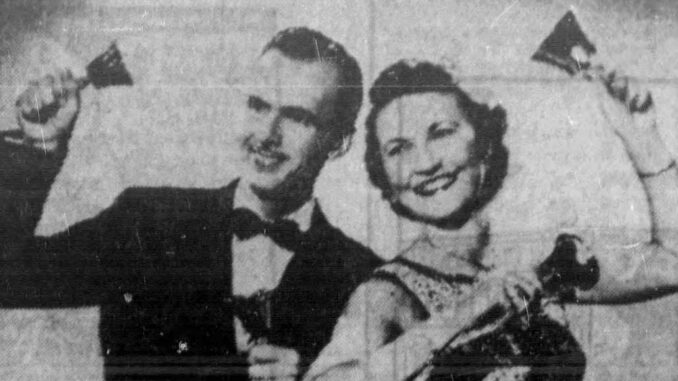 In the 1950s and early 1960s, Leaside was home to two entertainers who claimed to have the only musical act of its kind in North America.
Their names were Arthur and Mabel Guinness – aka The Video-ettes – and their act was indeed unique. The couple was famous for their Swiss Bell ringing – the art of lifting-and-ringing specially designed bells to make music. Standing behind a table with some two dozen of these precisely tuned instruments, Art and Mabel would delight audiences with their amazing ability to rapidly and accurately select the right bells to produce a variety of popular tunes. Normally this would require multiple performers – each assigned to one or two bells. But Art and Mabel did it all by themselves. He did melody; she did harmony. Impressed by their speed and dexterity, one observer compared them to "two mad jugglers trying to clear a dinner table in a hurry."
Bell-ringing was not the only item in their repertoire. What made their act unique was Art's talent for playing music on the most commonplace and unorthodox of objects. Bottles, saws, teapots, frying pans, bicycle pumps, water tumblers…even pine-sticks – all were grist for his musical mill. One of his specialties was to play Goodnight, Irene by letting air gradually escape from a balloon. Another favourite was Schubert's Ave Maria, which he and Mabel played on wine glasses.
The pair originally hailed from British Columbia but left the west coast to take advantage of the fledgling TV industry (hence their name, Video-ettes) that was developing in Toronto and New York City. By 1949, they had settled with their two children in Leaside where they lived for the next 15 years – first at 216 Bessborough Dr. and later at 55 Hanna Rd.
Through much of this time they were a highly popular and sought-after musical act, performing regularly at the CNE (one time before as many as 15,000 people), appearing at Massey Hall with the Toronto Symphony Orchestra and touring across Ontario. In 1951, they were guests on Arthur Godfrey's popular American TV and radio show. They also appeared with such notable performers as the Leslie Bell Singers, Oscar Peterson and American pop singer Frankie Laine. Beyond Ontario, they performed at venues in Edmonton, Regina, Vancouver and even Texas and Alaska.
Art and Mabel continued their bell-ringing well into the 1960s. But the momentum and popularity gradually began to wane. In the early 1950s, Art had proudly called himself an "entertainer" and was listed as such in Toronto City Directories. By the end of the decade, he was described as a sales rep and later president of McLean Merchandise Sales Ltd. He seems to have taken a "normal job" to help make ends meet.
In 1965, the couple moved from Leaside to North York, then to Thornhill and eventually back to B.C. Mabel died at 83 in 2001. Art died there three years later at 89. A team to the end, they had been married for over 60 years.
Correction: The article in the December 2022 issue of Leaside Life ("LHPS honours Leaside's war dead…") mistakenly said that the LHPS had "identified" the names of the Leaside men killed during WW II. This was unintentional and incorrect. Like many other members of the Leaside community, the LHPS is well aware that these names have been publicly known since the Leaside Memorial Gardens opened in 1951 and are inscribed for all to see on the commemorative plaque displayed at that facility. The author regrets any misunderstanding this inaccuracy may have caused.
This article was guest contributed by Ted DeWelles, Leaside Heritage Preservation Society.