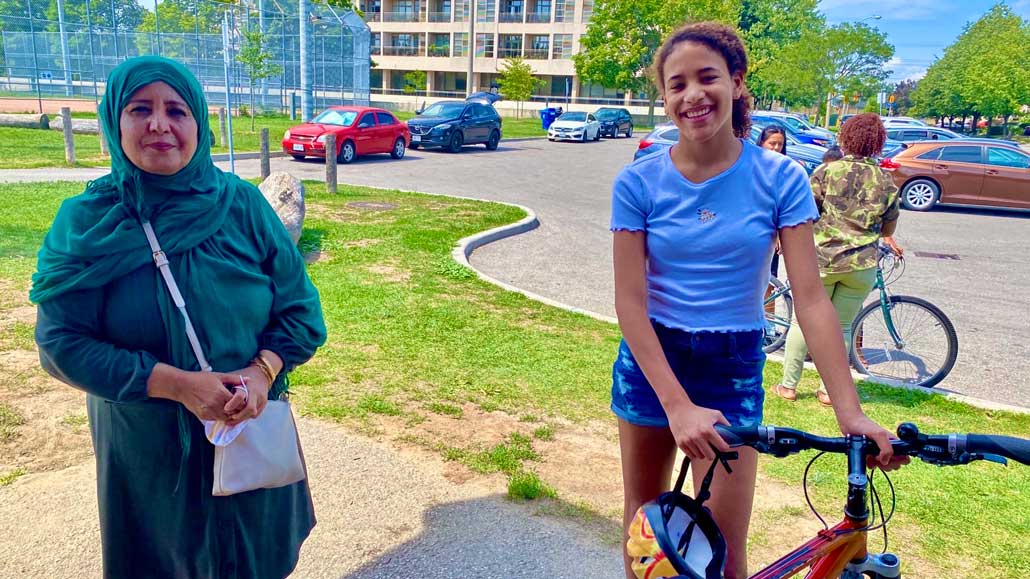 Call it the "little Bike Match program that could." Modelled after U.S. programs created to get bicycles into the hands of essential workers, #BikeMatchWCN has exceeded all expectations thanks to the generosity of people in Leaside and elsewhere in the city who donated bikes they didn't need. Today more than 75 women who were in need of a bike now have one. To put this achievement in perspective, the Bike Match Network in the U.S., which encompasses 12 cities including San Francisco, New Orleans, Boston and Pittsburgh, collectively managed just 163 bike matches.
Collaborative effort
The Women's Cycling Network (WCN) is a grassroots group of women, mostly from Thorncliffe Park, Flemingdon Park and nearby communities, who bike for health benefits, transportation, freedom, and empowerment. This spring brought a spike in interest in cycling as well as a shortage of available bikes. With assistance from the Gateway Bike Hub and volunteers from Cycle Don Valley Midtown, #BikeMatchWCN launched in June to provide bikes for their growing membership. Kris Langille from Cycle Don Valley Midtown led the promotion, placing calls for bikes in local publications, councillor e-blasts and on social media channels. Although bikes mostly came from individuals who had a bike they no longer used, the program kickstarted with 20 used bikes donated from Gears Bike Shop.
Connecting donor
and recipient
One of the charms of bike match programs is the exchange – when the donor hands the bike over to the person receiving the bike. Najia Zewari, co-founder of the Women's Cycling Network, notes, "The bike match has been a great experience for the Women's Cycling Network, helping us to promote cycling for women in our communities as transportation and recreation. We are so grateful for all the support. The smiles on the faces of our bike recipients has given us tons of joy and the motivation to expand our work throughout the GTA."
Security and safety first
Because recipients are women, bike exchanges were always conducted in a public space under the supervision of a Women's Cycling Network volunteer who would also adjust the seat and make sure the bike was ready to ride. Many recipients were new to riding so the right fit was crucial. For those who needed training, basic learn-to-ride sessions were organized by Women's Cycling Network volunteer Sediqa Nawrozian with help from the Gateway Bike Hub, Flemingdon Health Centre and CultureLink. In addition, the program's administration is getting a makeover. Ana Rodrigues from Cycle Don Valley Midtown has been working on an app to make registering and matching bikes much easier.
An eye on expansion
All of this has encouraged the group to think big for 2021. As Najia Zewari explains, "Three years ago we started out with 15 women who wanted to ride. Now we have more than 100 and many are able to bike because of the bike match program. This need goes beyond our community and we plan to explore expanding the program to other neighbourhoods next year."