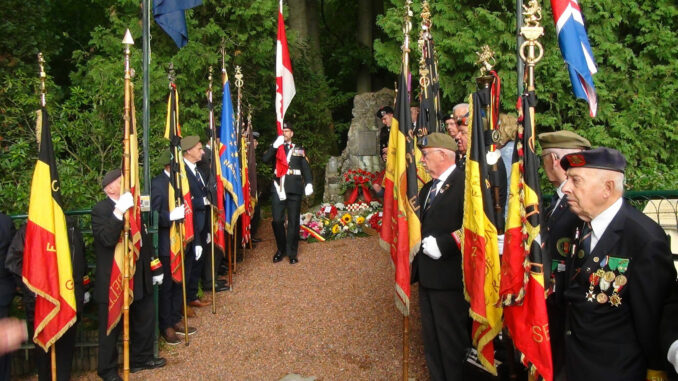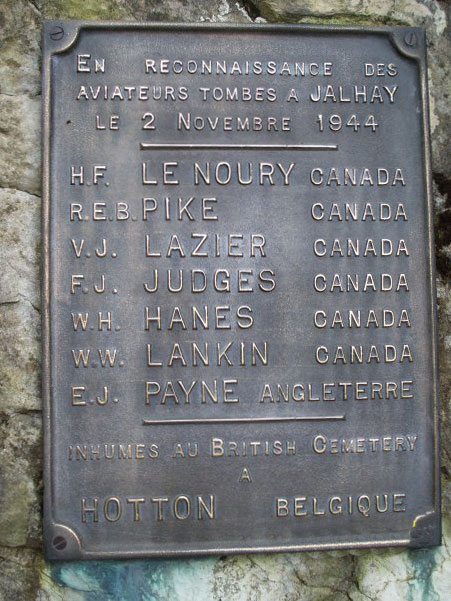 On Nov. 2, 1944, a British Halifax bomber returning from a raid over Dusseldorf, Germany was shot down and crashed outside the Belgian village of Jalhay, east of Liege. The seven crew members (six Canadians and one Scot) included two young men from Leaside – RCAF Flight Officer Robert Pike (the pilot) and RCAF Flight Sergeant Vernon Lazier (the air bomber). The plane exploded in flames, and there were no survivors. All seven airmen are buried at the Hotton War Cemetery in Belgium.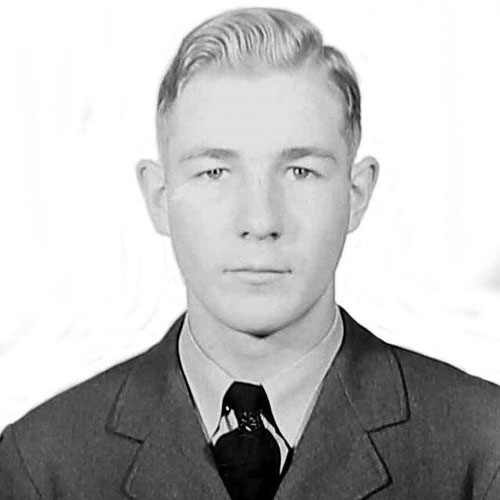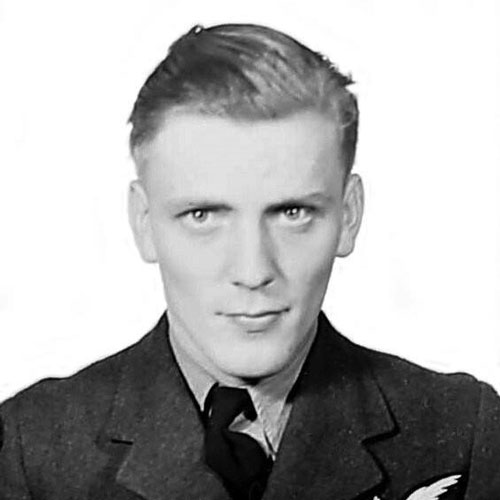 Both Lazier and Pike – whose names are inscribed on the Leaside Memorial Community Gardens Honour Roll – grew up near one another. Lazier (b. 1922) lived at 29 Heather Rd. and attended Bloor Collegiate Institute; Pike (b. 1923) grew up at 49 Cameron Cresc. and attended North Toronto Collegiate.
By many accounts, they were individuals of outstanding character and promise. Vernon Lazier was described by his recruiting officer as "clean cut, well-spoken and well dressed" and was "fast becoming an ace Air Bomber" according to the official letter his parents received following his death. Robert Pike elicited similar comments. "Pleasant, conscientious, hard-working… with leadership qualities" and "excellent deportment" were terms used by evaluating officers in his flying and ground training assessment.
A town remembers
While the death of these brave boys was tragic, what happened afterwards has become a story of hope and inspiration. As their plane plunged to the ground, the crash was witnessed by local resident and Belgian resistance fighter Albert Adans. After the war, Adans – moved by the courage and sacrifice of the doomed air crew – vowed to keep their memory alive. On Sept. 23, 1951, he kept his promise by unveiling a six-foot, 3.5-ton granite monument, which he erected in their honour at Jalhay. Attached to the monument is a bronze plaque on which are written the names of Pike, Lazier and their fallen colleagues. The plot of land where the monument rests is officially designated as Canadian soil. There is also a portion of the plane's wing on the site.
Every year since then – for the past 72 years – a ceremony is held at Jalhay on the last Sunday of August to memorialize the crew members and their families and to show the town's gratitude for their sacrifice. Participants include local dignitaries, representatives of the Canadian Forces as well as the family members of Albert Adans, who have maintained the memorial since Adans' death in 1980. Relatives of the air crew also attend. Robert Pike's nephew, for example, has attended the service several times in recent years.
The service itself is dignified and moving. It involves a wreath-laying ceremony with an honour guard, speeches, and a religious service (including Mass) followed by luncheon. Photos and videos of the service are available on Facebook and YouTube. (See, for example: https://www.youtube.com/watch?v=nyUOAY0GpIs.) In November 2009, Global News aired a news story of the event, and this too is available online: https://www.youtube.com/watch?v=OnfMI809sQI.
It is comforting to know that nearly 80 years after their deaths, the memory of these young airmen remains alive in the hearts and minds of the residents of this small Belgian village – over 6,000 kilometres from Leaside. As Remembrance Day approaches, may we all be inspired by their example.
Photo sources: Cover and plaque: Canadian Memorial of Tigelot Jalhay, Belgium Facebook page. Airmen: Canadian Virtual War Memorial.