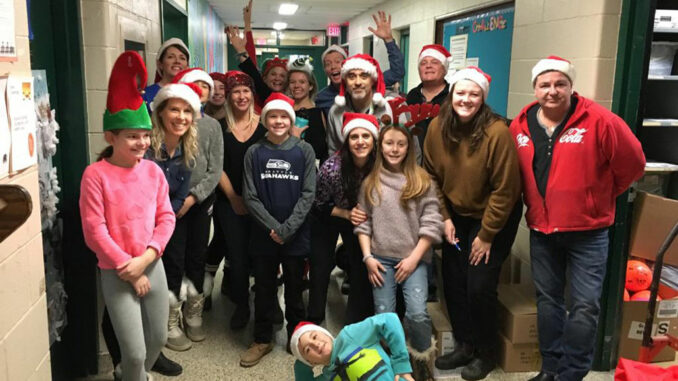 For the 20th straight year, the Leaside Toy Drive will be bringing toys, happiness and excitement to every primary school child in Thorncliffe and Flemingdon Park.
The community initiative has grown by leaps and bounds since its inception. From collecting and delivering 50 toys in its first year, the project distributed 6,000 toys last year during the holiday season.
With the goal of bringing the same number of gifts to kids again this year, the Toy Drive will hit a milestone of 50,000 gifts delivered in the past two decades. With the continued support of generous sponsors and individual donors, this is a target which would not only be astounding but would ensure beaming smiles on the faces of 6,000 kids.
How to help
Financial donations can be made through the Toy Drive's website (leasidetoydrive.ca) or via the QR code on this page or the one visible on posters in several participating stores throughout Leaside.
You can also show your support by attending the always popular "Guys Night Out" on November 30th at 7:30 p.m. at the Leaside Pub. With an amazing array of auction items (early holiday shopping, anyone?), games, a raffle and prizes, it's truly an event not to be missed.
Valu-mart is also continuing its outstanding support by offering its location as a toy drop-off spot.
On November 25th Canadian Tire Leaside will once again host the Toronto Police in their parking lot to fill cruisers with toys in support of Leaside Toy Drive. Special thanks to Andrea and Jeff Marshall for all their incredible support. Drop by and help them fill the cars!
Hard to believe but as the toy drive hits its 20th year, there are now adults who were recipients of the program's toys as kids. Recently, a few approached the committee with their memories of looking forward to receiving the toys each year.
The toy drive committee works diligently throughout the year with school principals and staff, toy manufacturers and sponsors to ensure kids receive gifts that are age-appropriate and of great quality and value.
High school students can be of great assistance, and receive volunteer hours, by sorting and packaging toys for the various schools. Contact the committee via their website to offer your help.
As Lisa Lefebvre of the Toy Drive Committee notes, "The generosity of all the sponsors, donors and volunteers has been monumental over the years. As the saying goes, it truly takes a village to make it happen year after year!"