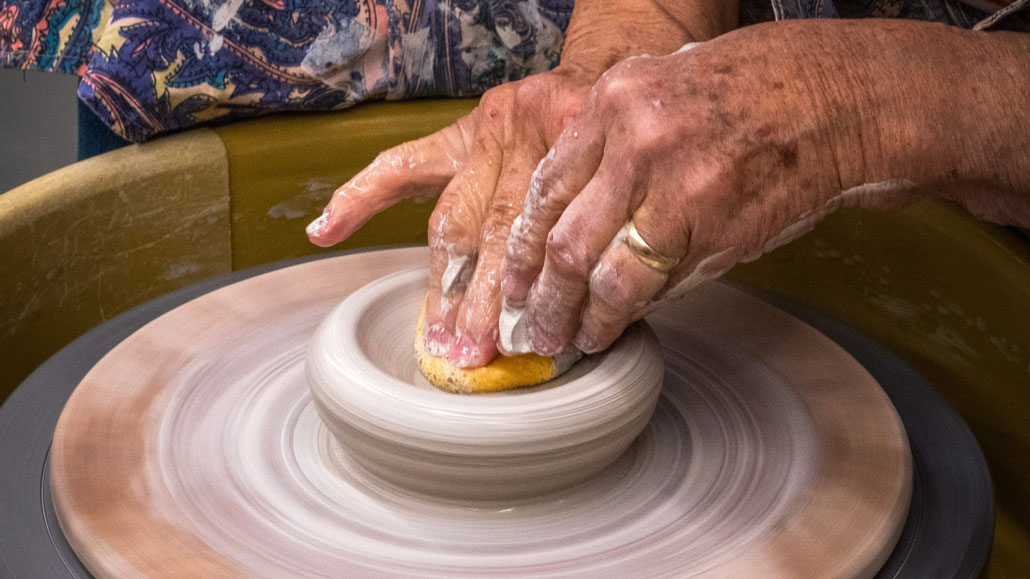 Many of us first became aware of The Potter's Studio when the directional signs for their twice-yearly sales would appear at Millwood and Overlea and also at Overlea and the top end of Thorncliffe – the signs with balloons bobbing in the breeze. Look for those signs again this spring – from April 28 to May 1.
The co-op started in 1972 on Dupont Street, relocated to Thorncliffe for more space in 1977, and moved from Unit 16 beside Iqbal Halal Foods to Unit 19 just east of Iqbal Kebab in 2020.
The studio has 50 members, making this a coveted work spot for potters who come from all over the city to be a part of this lively studio. Some members also have home studios and use the studio as an additional space. Others are based entirely at the studio. All have keys and can access the workspace anytime day or night. They closely follow all regulations for activities during Covid, including how they conduct in-person sales, space out work stations, stay masked and remain properly distanced.
Cleanliness, including a daily clean-up regimen, is a requirement, especially in a shared space. The studio's clay comes from The Pottery Supply House in Oakville and Tucker's Pottery Supplies in Richmond Hill. Potters store their own clay on site. Luckily, both suppliers offer weekly delivery to the studio. The potters need to be diligent in keeping surfaces spotless for health reasons, and work must remain uncontaminated so glazes flow properly during firing. The studio is also diligent in testing glazes and ensuring works are food safe, and if not, are labeled properly. There are specific routines that must be followed. It certainly is a "labour intensive hobby," says current president, Elaine Glynn.
As well as potting, part of belonging to this studio is that you share in various tasks – from regular cleaning, to managing the money, and taking on leadership roles because the studio, which does not have base government funding, is funded by membership fees and profits from their sales and classes.
A place for sharing, The Potter's Studio holds in-house workshops, shares techniques, and provides mentorship for new members. Students of different levels can work together at their own pace, taught by professional potter Shayne Snaiderman. You can register for classes at https://thepottersstudio.ca.
Funding from the City of Toronto supported two SPARK Partnership Projects in 2020. For the first: "Volunteers from The Potter's Studio will work with The Neighbourhood Organization to organize a number of workshops for local young people to develop hand-building skills with clay," says Glynn. "Giving back to the community, the youth will create clay art for the offices of The Neighbourhood Organization." The second partnership, with the North York Women's Shelter, will enable participants to work with clay for therapy and part of their healing process.
The studio did have a bit of an online brochure site before Covid, but now has a fully functioning website where you can learn more about the studio and its potters, register for classes, and purchase items made in the studio. You can also add yourself to the studio email list to receive notices of new work on the site and in-person sales events.
Metrolinx plans for this end of Thorncliffe Park Drive mean the studio will have to move again. They are certainly keeping their eyes open for space as attractive as their current location.