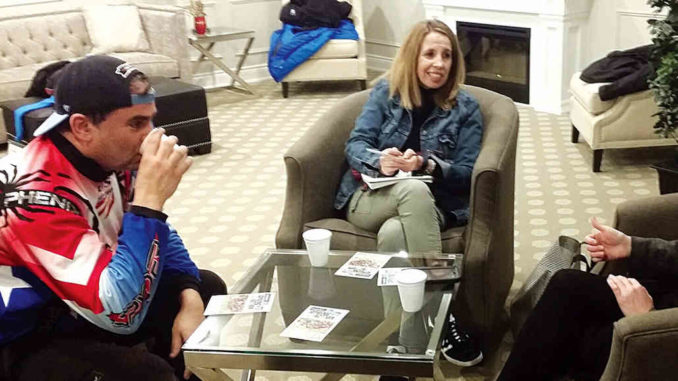 There's an old saying: "a problem shared is a problem halved." In the case of mental health challenges, sharing has two strong benefits. Not only does talk therapy allow those facing struggles to open up about their suffering and find support from listeners, it also shows others who may also be facing their own challenges that they are not alone.
With May being Mental Health Month, two courageous Leasiders have offered to share their stories of loss and their ongoing journeys to recovery.
Jen's story
Jen (last name withheld at her request) is a second-generation Leasider and an extremely driven and successful businesswoman who has won awards for her professional accomplishments. After living in Leslieville with her husband and two sons, Jen returned to Leaside after the loss of her spouse, with whom she had been together for over 16 years. Jen lost her husband not to death, but to drugs. Within a very short period, Jen's husband went from a successful contractor to an addict with volatile behaviour who resorted to stealing to support his addiction. This huge loss and extremely stressful experience had a severe emotional impact on Jen but also, obviously, on her two sons. Finding help for herself as well as for her sons has often proven challenging with OHIP-covered long-term services, especially for children, often unavailable for many months.
Jen says that "fitness and outside activities are amazing outlets" and that "community is incredibly important" in dealing with mental health recovery and maintenance. She also stresses that mental health challenges are, "issues that affect everyone regardless of status, race, colour, or creed."
David's story
David Hershenhorn and Janine Zimmermann met in 1988, married in 2002, and in 2009, welcomed a son, Cooper Charlie Hershenhorn. Leaving her job in real estate to be a full-time mom, Janine loved her new role. But on December 14, 2016, just one day before Cooper's seventh birthday, Janine died in hospital after a short, unexpected illness. For David, the pain of the loss was, and still is, devastating. Now in his early 50s and working long hours in the foodservice industry, David was overwhelmed with handling his own grief and that of his young son and taking on a new and demanding role as single father. As David says, he was "dealing with the everything."
David, like Jen, had a hard time initially finding help for Cooper. Both David and Cooper now have mental health professionals assisting them on their journey, and David has leaned on his colleagues, friends, and community to support them both. He has also learned the value of coping techniques such as talk therapy and exercise. Dad and his son can often be found together skiing. As David explains, "I want to be there for Cooper. I want to be active with him."
Both Jen and David were clients of Leaside's InsideOut trainer, Barry Samuel, before the loss of their spouses. Samuel has long stressed the importance of wellness from the inside out, and through his work in mindfulness and wellness therapies knows the benefits of talk therapy and exercise for mental health. Throughout their struggles, Samuel has taken both David and Jen on nature walks to allow them to chat, to act as a friendly shoulder to lean on, and to use walking as a restorative physical activity. He has, they both agree, been a completely non-judgmental and strong support in their journey.
There is no one fix-all for the myriad of mental health struggles one in five Canadians faces. Mental illnesses can be caused by a number of factors and can be treated effectively with various therapies. But to receive help, individuals must be willing to acknowledge they need help. David and Jen have bravely come forward with their stories and in doing so, hope that others will be inspired to ask for help and begin on their own journey to good mental health.