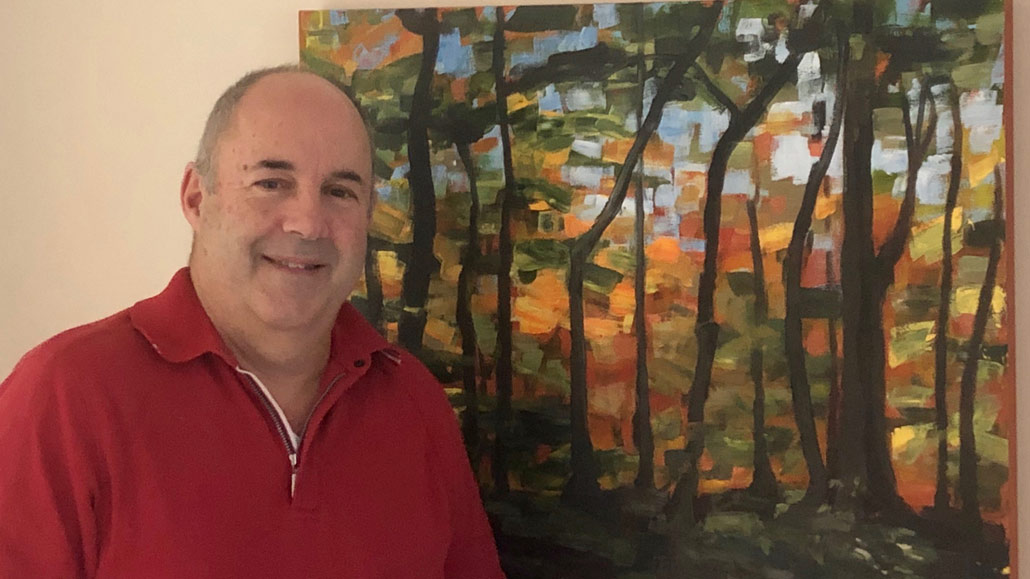 I chatted a bit with Warren Eberlin at James Henderson's 100th birthday party, and realized that he was one of a very few Leasiders who was born here, went to school here, and now, at retirement age, still enjoys living in Leaside.
He grew up on Airdrie, next door to the hockey player, "Red" Kelly – a house that was subsequently sold to the Burnside family (former Councillor Jon Burnside was one of the family's children). His degree from the University of Toronto is in Industrial Engineering, with a subsequent MBA. He still wears his iron ring, a bit worn by now. He was intrigued by how people work in systems, and liked "how people fit." He spent his career with big research & development companies, in the human resources department coaching and counselling.
His wife, Mary Ellen, was originally from Don Mills, so after their marriage and eight or so years working in Ottawa, there was a possibility that Don Mills would become home when they were moving back to Toronto. But Leaside won out, and they have been north Leaside residents ever since.
The Leaside sports bug hit their children, Amy and Kathryn. Both played softball in Toronto for David Stickney, who also had taught Warren mathematics at Leaside, and then taught both girls math. Both continued at elite American universities with softball scholarships. Now holders of a PhD in medieval history and an MA in marketing respectively, Amy is at the University of Stirling in Scotland, and Kathryn is in Toronto with a marketing firm.
Warren picked up the slogan for retirement as three phases of maybe 10 years each – "the go go, the slow go, and the no go." Since both his parents are still alive – his dad at age 98 is taking retirement seriously – Warren hopes to stay in the "go go" phase for as long as possible.
His future retirement activity may have been born in kindergarten at Rolph Road when he did finger painting for Miss Milburn. He continued his art in after-school classes at the Leaside Library and won in art exhibitions as a Boy Scout.
At Bethel Baptist Church, he followed a bit in the footsteps of his grandfather, who had done manuscript illumination. Warren remembers creating a banner for the nursery at the church, using the text from Isaiah: "We shall not all sleep, but we shall all be changed." He delights in remembering the humour of that verse for a nursery.
When banners were needed for the Penny Carnival at Trace Manes, he could produce as many of the 25′ x 10′ signs as required.
For the last few years, Warren has been doing more painting, in watercolours and acrylic, and some "uber doodling with pen." His wife, newly retired from her position as president and CEO of Toronto Grace Health Centre, has become his manager.
Just after Warren retired in May 2018, he had an art show, "Step into the Forest," at the McMaster Fitness Studio on Bayview. His show "Islands" (including Jamaica and Skye) will be at the ArteMbassy Gallery at 28 Industrial St. on March 23 and 24 from 10 to 4pm. "Art is becoming a mechanism to enjoy the next stage of my life," he says. "It gives me a different way of looking at what is around me."