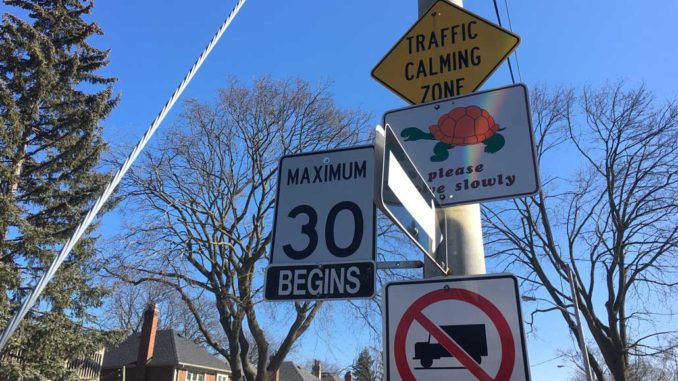 What better way can there be to spend a warm and sunny spring evening than to attend a meeting about Leaside's traffic issues? In early June, Ward 15 Councillor Jaye Robinson invited residents who have been contacting her office on that subject to an informal town hall meeting. Both Geoff Kettel and I attended on behalf of the LPOA.
While several comments were specific to individual streets, I was encouraged to note that there was a very strong consensus for seeking traffic solutions on a Leaside-wide basis, rather than piecemeal. There was also a substantial agreement that it takes much too long to get action from the City for traffic-calming measures which could make Leaside a safer place.
In December, the LPOA Traffic Committee presented a neighbourhood-wide plan to calm traffic, not just to divert it; to phase in improvements when road works and street repairs take place. It is dispiriting to note that most of the attendees at Councillor Robinson's June town hall had not gone to the LPOA's website (lpoa.ca) to check it out. I urge you to do so: look at the overall plan, and at your street, on the maps provided. There are measures available to really make a difference, many of them not expensive.
Leaside's traffic problems pre-date the LRT construction nightmare. Many commuters and retail-based drivers will continue to drive through Leaside even when the LRT is completed. Increasing development pressures will continue to exacerbate these problems. Clearly, the sooner we apply effective traffic control measures, the more improvement we can make.
One important local initiative is a petition circulating in Leaside to support lowering the current speed limit on non-arterial streets. At the moment speed signage varies from street to street, frequently 40 km per hour. The petition calls for a reduction to 30 km per hour throughout. Other cities like Seattle, Boston and New York have implemented such lower limits with great success. Not only are there fewer (and less serious) accidents, but the speed limit is easier to enforce when an entire area has a constant limit. The attendees at Councillor Robinson's meeting unanimously supported a 30 km per hour limit, and at the subsequent LPOA board meeting the LPOA signed on as well. Next month's Leaside Life will feature a more detailed article on this subject.
Where are we with Bill 108?
We are now in the summer break, and still no wiser as to exactly how the province's Bill 108 (More Homes, More Choice Act, 2019) will affect Leaside (or Toronto as a whole). We do know that many of our important sources of revenue, like development charges, the parks levy, and Section 37 benefits, will be significantly reduced or removed. Leaside has benefited from these in the past, as they have paid for neighbourhood amenities and needed infrastructure. We know what the legislation says, but still have no idea how the legislation will be applied, nor what it will cost. We need to see the actual regulations in order to grasp their real impact. Leaside is a desirable part of the city. A recent Globe and Mail article singled out the Bayview Avenue/Eglinton Avenue intersection for intensification. We can be certain we will continue to be challenged by increasing pressures from development. See page 24 Saving Old Leaside for further info on the Bayview/Eglinton situation.
The next monthly LPOA board meeting is on WEDNESDAY, July 10th, at 7:30 p.m., in the Trace Manes building on Rumsey Rd. Board meetings, which are always open to the public, take place on the first Wednesday of each month.