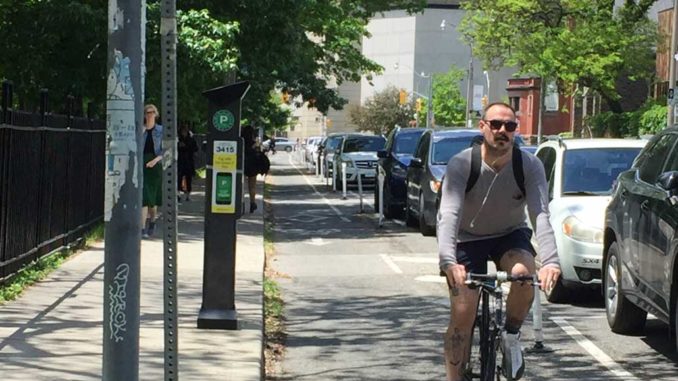 Everyone who rides a bicycle has cautionary tales – the near misses at intersections, potholes not seen until it's too late, lumbering trucks cutting the curb, and vehicles passing a little too close for comfort. Surprisingly, despite incidents like these, the number of people who bike in Toronto continues to increase. Yet research has shown that there is a large cohort – estimated at about 60% – of people who would cycle more if they felt safe. So, what would it take to make Leasiders feel safe riding a bike in our neighbourhood?
That's a question a group of Leaside residents have been asking. Some are members of Cycle Don Valley Midtown, the local chapter of Cycle Toronto. But others are people who live locally and know that when it comes to safe cycling, we could, and should, do better. With the goal of improving connectivity around Leaside, and complementing the Leaside Property Owners Association's Traffic Plan, the group is examining a number of options to improve, and encourage, travel by bike locally.
Building on existing plans
The plans for Eglinton Crosstown and Laird in Focus call for protected bike lanes, providing Leasiders with an east/west corridor traversing North and South Leaside, and a north/south route between Leaside and the industrial and residential areas to the east. The City's 10-year Cycling Network plan has Millwood Road, McRae Drive, Sutherland Drive (north of Millwood), Southvale Drive and Broadway Avenue as local cycling routes. Among these, only McRae has the space to accommodate a separated or protected bike lane, while preserving on-street parking. Still, other measures can also calm traffic and encourage more cyclists locally, such as reduced speed limits and designated bicycle route markings.
Closing the gaps and creating connections
What's missing is a north/south corridor and connector to the planned bike lanes on Eglinton. Instead of the partial route on Sutherland as proposed by the 10-year Cycling Network Plan, Hanna Road offers the potential to bring cyclists from Southvale to Broadway, connecting to three schools en route and bisecting the Millwood and McRae routes to create an intra-neighbourhood cycling network and a bypass to Bayview Avenue.
But what about Bayview? Could it have bike lanes similar to those successfully installed on Bloor Street west of Avenue Road, preserving on-street parking, enhancing local business and making travel more comfortable for drivers and people who bike?
More people on bikes means fewer cars
Leasiders are already feeling inundated by vehicle traffic, and new developments will potentially add even more cars to our streets. The development of the Canadian Tire site, to name just one, could bring at least 1,200 new vehicles to our neighbourhood. Certainly, the Eglinton Crosstown will replace some of the travel by car. But getting more people to bike is also part of the solution and, as the research shows, providing safer ways to do so is how to make this happen.