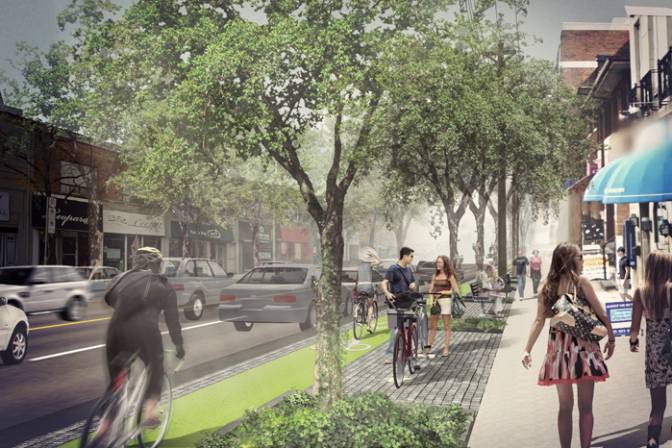 On April 28 (past Leaside Life's deadline), the city planning department was to hold the mandatory community consultation for the proposed development at 660 Eglinton East (Sunnybrook Plaza). The objective of this consultation is for the community to view the proposal and provide feedback to the developer (RioCan), city planning and, of course, to me.
In early February I held a meeting between RioCan and the residents of Craig Cres. and the immediate neighbours on Bessborough Dr., since they will be most impacted by this development. In March, RioCan presented their proposal at the Leaside Property Owners' Association (LPOA) monthly meeting.
It is important to reiterate that I have already expressed to RioCan that I am firmly against their current proposal.
As background, Toronto's Official Plan has identified Eglinton for "intensification," particularly the stretch containing the LRT line. I have always maintained that while the LRT is much needed and will be beneficial to the city as a whole, it brings with it consequences for Leaside, namely further development.
The Eglinton Connects study identifies most of the Leaside stretch of Eglinton as an area for "mid-rise development," which means building heights of six to nine storeys. However, the intersection of Bayview and Eglinton was subject to a specific "focus study" which envisioned the area as "predominantly mid-rise". The unfortunate use of the singular word "predominantly" has added an unknown element into the mix.
RioCan is using the vague terminology as justification to propose "tall" buildings on their site. Their main argument is that development on the surrounding corners would be mid-rise in form. Thus this intersection would remain "predominately mid-rise".
However, it is my understanding that the city's intent was for potentially taller buildings on the north-west corner of the intersection (Metro grocery store) which is a much larger site with fewer residential neighbours. It appears that RioCan is trying to use this vague "predominantly mid-rise" guideline to their advantage by proposing an eight-storey midrise building with two tall buildings on top.
While most of us focus on building heights, shadowing on neighbouring properties and increased traffic, an issue that is not currently a criterion, but I believe should be, is the impact these forms of development have on local schools.
What makes Leaside such a strong and desirable community is the people and the strong ties amongst us. Many of these relationships are centred around our kids and through our local schools.
Schools in Leaside are all at capacity and the current Toronto District School Board policy is to bus new students to schools outside the area. My concern if this is done on a large scale (which we can surely expect with all the proposed condo developments), is that the "close knit" community we know and cherish is at risk as more and more residents may not have the same connection to the rest of the community.
I have been told by our planning department that without the ability to direct how school boards manage their enrolment and school boundaries, the city cannot use capacity as a criterion to assess development proposals. While this is disappointing, I will keep pushing both entities to work more closely in this regard.
I was hoping for a large community turnout on April 28. I want RioCan to get the message loud and clear: their proposal is too large, too high, and needs to respect the essence of the community of which they want to be a part.