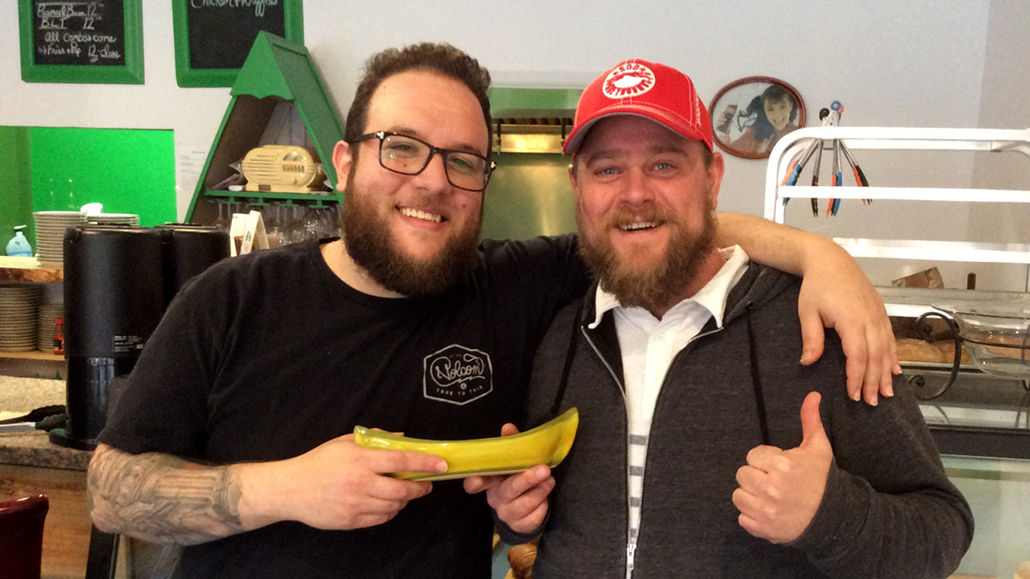 Green Canoe restaurant paddled onto Millwood between Randolph and Sutherland on June 18 last year. But even before its official opening, there was great interest among the locals. Green Canoe – what's that?
There really is a green canoe – or at least, half a green canoe, which sits high on a wall and houses some artificial plants. As owners Ryan Horwood and Dave Pereira explain – they would really like to have real plants in it, but they thought it was more important to get the food part right first and worry about the intricacies of décor later. But it's clear they do worry about the décor. The front of the bar is beautiful lumber from a sawmill Ryan worked at years ago.
So, how did this restaurant come to be? It's a bit of a long story.
Dave Pereira was born in Lisbon and moved to Canada with his family as a child. He and his wife still live only four blocks from the family's first house. Dave's dad was a small business owner. As Dave says, "Once school wasn't chosen for me" after he left De La Salle, he originally worked on the 45th floor of a bank. Realizing that banking wasn't what he wanted to do, he attended Liaison College for one year to study cooking – something he had always enjoyed. Afterward, he worked in several fine dining restaurants, but realized while he enjoyed the cooking, he really didn't like the late hours. One of the family businesses for many years had been Happy Bakery at Dufferin and Dupont. Five years ago, Dave became the sole proprietor, and he still owns and runs it.
Meet fellow Green Canoe owner Ryan Horwood. Ryan grew up in South River, Ont., population 800 – a bit south of North Bay. His mom kicked him out when he finished high school and sent him off to Toronto with a bit of money, because she didn't want him to end up working in the local sawmill. One of his first jobs in Toronto at age 18 was DJing in a strip club. What he really enjoys is doing stand-up and acting and has had some success – doing national tours for Yuk Yuk's, for example.
About 15 years ago, while working in security, he would drop in to Happy Bakery for a coffee and a treat…which is where he met Dave. The two became friends over the years, so when Dave was thinking of starting a restaurant, Ryan was a natural to be a partner and to work out front and leave Dave in the kitchen.
They were looking for somewhere that "feels like a small town in the big city," a "mom and pop feel," and "not on a major thoroughfare." The Millwood location ticked all the boxes.
As it happens, Green Canoe is right next door to Millwood Melt. Dave makes an excellent Portuguese grilled cheese called "tosta mista," but you won't be able to order one at Green Canoe. Dave made a point of talking to Steve and Aniko at Millwood Melt to assure them there wouldn't be grilled cheese on the Green Canoe menu. "It is the neighbourly thing to do," says Dave.
Now that they've been open for six months, Dave takes one day off a week, in addition to the Mondays when Green Canoe is closed, and Ryan has started doing stand-up again when he's not at the restaurant. But they both insist that Green Canoe is their base, and they want to grow it as a community hub.