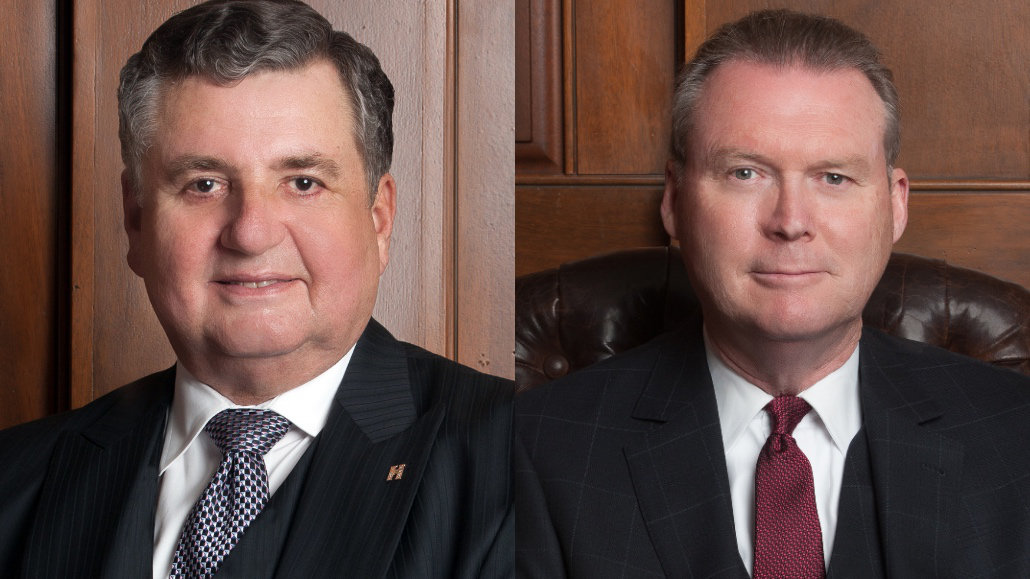 November 9 is an important date in the history of Humphrey Funeral Home A.W. Miles-Newbigging Chapel Limited: Bruce Humphrey finalized the sale of his family funeral home to Kim Hunter.
This family funeral home, dating from 1879, and at its Bayview location since 1955, has been in the Humphrey family for four generations, with Bruce becoming president in 1990. The business has expanded over the years, with the acquisition of two other more-or-less local family funeral businesses: A.W. Miles on St. Clair and Murray E. Newbigging on Mount Pleasant. Bruce's grandmother lived in a funeral home for 75 years, from the time she married until she died. Bruce himself lived above the funeral home when he was young. So, he certainly knows the business, and he says he knew from the time he was 12 that this was the place for him.
Over the years, he has had many offers to sell, most from chain operations, but he always said no. A couple of years ago, with his three now-adult children deciding to go in other directions, he decided it was time to start succession planning. "People don't realize how demanding this business is, being an owner/operator." But at the same time, he admits, "it's not been a living, it's been a life. It's a calling." So, he was very particular that he didn't want to sell to a "faceless company" because he "really cares about who takes over" and whether that person follows the traditions of excellent service of a family-owned business. His priority was to have someone "who knows how we do things – the difference between 'ma/pa' and a chain."
Part of that tradition is being an active participant in community life. Bruce served as president of the Leaside Lions Club, as well as on various boards and professional associations. "An awful lot" of local baseball and hockey teams have benefited from Humphrey sponsorship over the past 50 years, and he expects that tradition to continue.
In Kim Hunter, he found the right person to take over the business.
Bruce now has the title of "Chairman Emeritus" and will continue "on a consultant agreement for close friends or family."
Meet Kim Hunter, new owner of Humphrey Funeral Home
Kim had an uncle and great-uncles growing up in Meaford who were in the funeral business. As a teenager, Kim spent summers in his father's textile factory in Meaford, until he was 17, when he decided to work in the local funeral home for the summer and realized this was his calling. He became a licensed funeral director in 1976 and has since spent his whole career in Toronto.
Kim, named after the eponymous title character in Rudyard Kipling's book, worked part-time for Bruce in the 1980s, and in 1992 joined the full-time licensed staff.
As an aside, Kim's wife, Rebecca, is also a licensed funeral director, who worked at Humphrey's. In 2003, they had the opportunity to buy the J. Scott Early Funeral Home in Milton, where Rebecca has since been in charge. Kim has become a good commuter.
It was his long-time dream "to own THIS funeral home," meaning Humphrey's. "It has a reputation, and a level of service above and beyond what's required. The attention to detail and devotion to our clientele are very important to me." Rebecca and Kim's son, Jake, works part-time for Humphrey, but hasn't yet decided if he'll join the family business.
There have been many changes in the funeral business in the past years. For instance, there are fewer "traditional" funerals with an open casket and a burial, and more memorial services followed by cremation. He sees his job as "being here to serve, so I need to listen to the wishes of the people who come to us." One change he does not foresee is another lengthening of the name of the business. What will definitely continue is the tradition of involvement with the local community in sponsorships and other forms of participation.