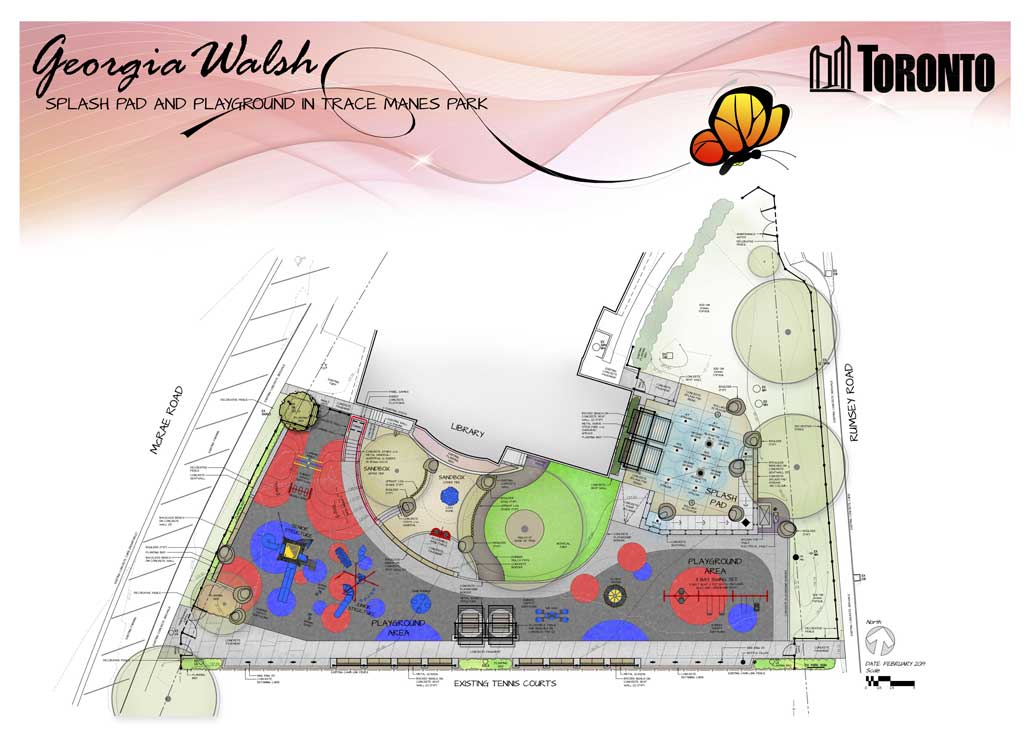 The Walsh family is thrilled to announce that construction on The Georgia Walsh Memorial Playground will start this July 2019, and will be completed this November, with an official ribbon-cutting ceremony set for next spring.
As you can imagine, since this is one of the largest privately funded playgrounds the City has worked on, with a budget of $1.3 million, the process from start to completion has been a long one.
In the months following Georgia's accident the family asked themselves a few very important questions:
1. 
How can we best celebrate the life of our precious daughter?
2. 
How can we make sure that Georgia's loss does not cause other parents and children to live in fear of going outdoors to play in downtown Toronto?
3. 
How can we give back to the community of Leaside and 
surrounding neighbourhoods for their outpouring of love and support in the months following this tragedy?
The answer came easily: a playground…and not just any playground. Trace Manes playground was in dire need of an upgrade, so this seemed the ideal opportunity to give Leaside what it desperately needed, but never had before: a state-of-the-art playground, which will be like no other in the city.
One of the more important variables was to ensure the availability of a variety of play options for multiple ages. The playground was to be an experience for the whole family to enjoy, whether you wanted to stop by for 20 minutes or two hours. So, the challenge for the City was working within its existing small footprint to maximize space yet provide a rich experience for both children and their caregivers.
It was also vital to create a playground that respected the view of neighbouring houses and the integrity and aesthetic of the existing neighbourhood. The goal was to create a design with the City that meets today's tastes without looking dated 25 years from now.
In the renderings, you will see a wealth of features for everyone: a fully fenced-in space for increased safety, a rubberized surface for all abilities, wheelchair accessibility, bike racks for kids, stroller parking, an uninterrupted walkway from McRae to Rumsey, seating scattered throughout the playground to allow caregivers to comfortably keep an eye on their kids wherever they are, a shaded table area, sandbox, green space for comfort and play, a multi-tiered senior play structure and junior play structure, an OMNI Spinner, a four-person seesaw, a circular netted Global Motion spinner, a three-bay swing set with toddler swings, regular swings and a special needs Friendship swing for a parent and child to enjoy together, a secret tunnel to the sandbox, an artificially created hilled surface with climbing ropes, monkey bars, and climbing rings, a wonderful splash pad for children of all ages to enjoy all day long, and last but not least, a beautiful donor wall on the wall of the walkway to celebrate the incredible donors who made the Walsh family's dream a reality.
Visit RememberingGeorgiaWalsh.com to follow the construction process from July.
Jillian Walsh contributed this story.